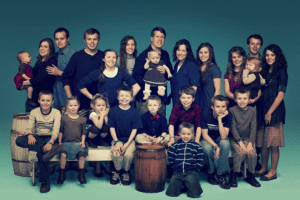 by Kelly Crawford from old-paths.com and Generation Cedar – Fertility: It is Evangelism!
I've been talking about this for a long time, and will continue to.  The common misunderstanding about God's command to "be fruitful and multiply" is that reproduction is a private choice, affecting only the private lives of each family (therefore, "stay out of my business").

We fail to understand that many principles of Scripture are not individualized; they are given to "a people" and the obedience or disobedience affects "a people".  God's ways are not always meant to be interpreted as a tool to improve or hinder our personal lives, though He is deeply concerned with us on a personal level.  But "His ways are higher than our ways" and we would do well to just trust that.

What I'm trying to say is, often God is wanting to do something much bigger than the scope of our own lives with our obedience to Him.  And even in His sovereignty, He allows us to reap blessings or curses based on that obedience.
Comments open below
QUOTING QUIVERFULL is a regular feature of NLQ – we present the actual words of noted Quiverfull leaders and ask our readers: What do you think? Agree? Disagree? This is the place to state your opinion. Please, let's keep it respectful – but at the same time, we encourage readers to examine the ideas of Quiverfull and Spiritual Abuse honestly and thoughtfully.
NLQ Recommended Reading …
'Breaking Their Will: Shedding Light on Religious Child Maltreatment' by Janet Heimlich
'Quivering Daughters' by Hillary McFarland
'Quiverfull: Inside the Christian Patriarchy Movement' by Kathryn Joyce