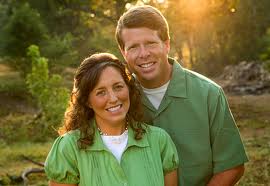 From TV Watch: Michelle Duggar speaking of her teenaged bulimia and dating Jim Bob Duggar to promote the new book and a new season of "19 Kids and Counting".
This is a slightly different Quoting Quiverfull: While I think it's admirable that Michelle Duggar has both beaten bulimia and been open and honest about her struggle I have to ask our readers if a) a teenaged boyfriend is really an ideal accountability partner for a serious condition and b) why all the dating that led to a successful marriage yet they only approve courtship for their children?
"The freedom came when I talked about it," she says. "I met Jim Bob and he and I were in a dating relationship and I loved this guy and wanted to marry him. We were talking future together and I remember that I felt like I had to tell him everything, everything about myself. You can't keep secrets from the man you want to share your life with. I shared this struggle with him and he said he would help me and help keep me accountable."

The couple went on a sweets-fast together and Michelle would call Jim Bob whenever she felt the urge to make herself throw up. The two married on July 21, 1984, when she was 17 and he was 19.

"Every time I was struggling, I would tell him," she says. "It was a hard time for me. But it was at that point in our relationship, it built a solid foundation for us. There are tough things in life you walk through together. I began to tell him, 'I have to have strong accountability for this.' I was set free."

Though the first six months were the hardest, Michelle says the thoughts would come and go through the years.

"I would call him," she says. "He told me to call him anytime. I just know that I would be tempted and I would have the crazy thought that I wanted to throw up, not hold onto the calories. Thank God it didn't go on longer than it did or I could have done horrible damage to my body."
Comments open below
QUOTING QUIVERFULL is a regular feature of NLQ – we present the actual words of noted Quiverfull leaders and ask our readers: What do you think? Agree? Disagree? This is the place to state your opinion. Please, let's keep it respectful – but at the same time, we encourage readers to examine the ideas of Quiverfull and Spiritual Abuse honestly and thoughtfully.
NLQ Recommended Reading …
'Breaking Their Will: Shedding Light on Religious Child Maltreatment' by Janet Heimlich
'Quivering Daughters' by Hillary McFarland
'Quiverfull: Inside the Christian Patriarchy Movement' by Kathryn Joyce