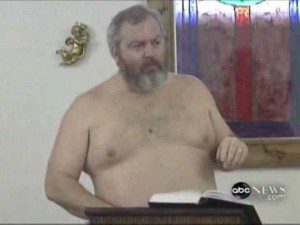 Starting with this odd story NLQ will be posting the things we run across that are 'religious' but not exactly something you'd expect. The 'what the hecks'
This story does not involve fundamentalists but it's an odd one. A church in Virginia is holding nudist or come as you are comfortable services.
ABC News did a short news piece on this particular church It's Not About Titillation
My question is how does this line up with the Bible? Is it right, wrong or just freaky. Thoughts?
Comments open below
NLQ Recommended Reading …
'Breaking Their Will: Shedding Light on Religious Child Maltreatment' by Janet Heimlich
'Quivering Daughters' by Hillary McFarland
'Quiverfull: Inside the Christian Patriarchy Movement' by Kathryn Joyce