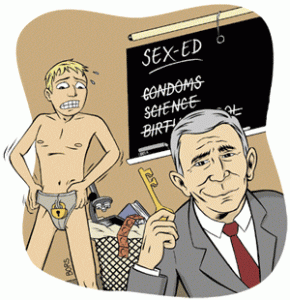 by an unidentified someone at Ladies Against Feminism as "Putting Sex Back in Sex Education, Home Education" after author read a Camille Paglia article about fixing sex ed in the public schools originally published in Time Magazine. The great comedy of this all is that the LAF gals have agreed with the ideas of a *gasp!* lesbian! Correct me if I'm wrong but doesn't LAF rant against homosexuality in all its forms usually? Most confused here.
What Camille actually said:
The refusal by public schools' sex-education programs to acknowledge gender differences is betraying both boys and girls. The genders should be separated for sex counseling. It is absurd to avoid the harsh reality that boys have less to lose from casual serial sex than do girls, who risk pregnancy and whose future fertility can be compromised by disease. Boys need lessons in basic ethics and moral reasoning about sex (for example, not taking advantage of intoxicated dates), while girls must learn to distinguish sexual compliance from popularity.

Above all, girls need life-planning advice. Too often, sex education defines pregnancy as a pathology, for which the cure is abortion. Adolescent girls must think deeply about their ultimate aims and desires. If they want both children and a career, they should decide whether to have children early or late. There are pros, cons and trade-offs for each choice.

Unfortunately, sex education in the U.S. is a crazy quilt of haphazard programs. A national conversation is urgently needed for curricular standardization and public transparency. The present system is too vulnerable to political pressures from both the left and the right–and students are trapped in the middle.
What Ladies Against Feminism are taking away from her article:
For those who are utilizing government schooling, well, here's the reality of what you're allowing your children to be taught; the very convoluted worldview of the delegated authority.She's right. Girls and Boys aren't equal sexually. It's surprising the contrary presupposition, an obvious lie, can even be foisted upon us.

She's right. Girls and Boys aren't equal sexually. It's surprising the contrary presupposition, an obvious lie, can even be foisted upon us.

A universal sex-ed program isn't the solution. Common Core proves that. Government schooling is a major part of the problem as is Hollywood. Realizing that taking back the role of teacher from the Government will decrease everyone's taxes is a great reason not to discuss reforming sex-ed. Agreeing that a universal solution is needed, that the nation across the board needs a sound message that includes biblical purity, pro-life, sound teaching on God's creation of man and woman according to His design is a great place to start.

Moral law ought to be observed everywhere. She's right on that point. Feminism corrupted our understanding of sexuality. She's right on that point too. Lets pray she applies it. If you didn't know already the author is a homosexual. Freedom to create homosexual support groups is obviously a failed conclusion as is reformed government education of sex-ed.
Comments open below
QUOTING QUIVERFULL is a regular feature of NLQ – we present the actual words of noted Quiverfull leaders and ask our readers: What do you think? Agree? Disagree? This is the place to state your opinion. Please, let's keep it respectful – but at the same time, we encourage readers to examine the ideas of Quiverfull and Spiritual Abuse honestly and thoughtfully
NLQ Recommended Reading …
'Breaking Their Will: Shedding Light on Religious Child Maltreatment' by Janet Heimlich
'Quivering Daughters' by Hillary McFarland
'Quiverfull: Inside the Christian Patriarchy Movement' by Kathryn Joyce