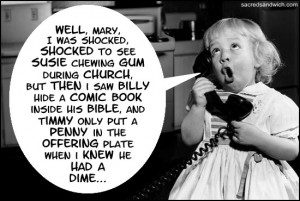 by Natural Cottage Mama posted at Ladies Against Feminism and Little Natural Cottage – How should Christian women respond when great men fall?
My heart absolutely sank.
It's not true.  I don't believe it.  
Those were the words that raced through my mind when I read about the recent, alleged sex scandals of two of the homeschooling movement's most prominent men.  These stories have shocked and disappointed thousands of Christian families, including mine.
This article isn't about these men or their alleged sins.
What I want to discuss is how should we as Christian women respond to these kinds of situations?
1. Don't gossip about it. 

Jesus gave instructions on how to deal with someone else's sin  (Matthew 18:6-17).  Gossiping and hashing out ugly details is just not in the mix.

Does this mean that women have to pretend that nothing happened?  Absolutely not.  There are times to speak up, and times to hold our peace.

How we choose to speak is as important as when we choose to speak:

As Christian women, we need to be aware of how our words can either build up or damage our homes, our churches, and the kingdom of God.

2. Don't believe everything you hear or read.

Information has a way of being twisted, misunderstood, and misrepresented, both by word-of-mouth and online.

Don't believe or repeat "facts" unless you know them to be facts.  Don't sensationalize circumstances or information.  Be discreet.

Social media creates an easy environment for "news" and "details" to circulate and be discussed.  Be careful!
Comments open below
QUOTING QUIVERFULL is a regular feature of NLQ – we present the actual words of noted Quiverfull leaders and ask our readers: What do you think? Agree? Disagree? This is the place to state your opinion. Please, let's keep it respectful – but at the same time, we encourage readers to examine the ideas of Quiverfull and Spiritual Abuse honestly and thoughtfully
NLQ Recommended Reading …
'Breaking Their Will: Shedding Light on Religious Child Maltreatment' by Janet Heimlich
'Quivering Daughters' by Hillary McFarland
'Quiverfull: Inside the Christian Patriarchy Movement' by Kathryn Joyce