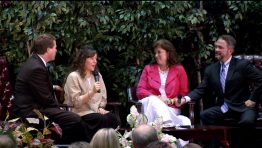 The Daily Beast reported this about the link between the Duggars and Doug Phillips of Vision Forum – Sex Scandal Rocks The Duggars' Christian Patriarchy Movement
The far-right Christian Patriarchy—brought to American audiences by the Duggar family—is on the verge of collapse after a series of alleged sex scandals involving the movement's leaders.

Jim Bob and Michelle Duggar have put many years and a lot of work into putting a smiling, nearly normal-seeming face on the extreme Christian right. The couple adheres to a fringe strain of fundamentalist Christianity dubbed the "Christian patriarchy" or sometimes the "Quiverfull" movement, and while there is a lot of internal diversity to the movement, they generally preach a combination of beliefs that run counter to mainstream America: absolute female submission, a ban on dating, homeschooling, a rejection of higher education for women, and shunning of contraception in favor of trying to have as many children as humanly possible. The movement is controversial even within Christian right circles, but the Duggars have tried to counter that with their popular reality TV show 19 Kids & Counting, where they present themselves as a wholesome everyday family that just happens to be a little more fecund and conservative than average.

The strategy has been surprisingly effective, with Michelle Duggar being able to act like she's just like any other reality TV star, giving sex tips and sharing recipes. Jim Bob has also been able to turn their fame into an opportunity to get political power, chumming around with presidential candidates and speaking at more mainstream conservative events. While many in the Christian right are still skeptical of Biblical patriarchy's extremism, this charm offensive has clearly softened up resistance and is giving this fringe an ability to throw their political weight around. The fact that Republicans have started to step up the anti-contraception rhetoric lately appears, in part, to be the result of this tiny group of extremists Christians putting a smiley face on absolutist anti-contraception sentiments.

But right as the Duggars are beginning to cash in on all this hard propaganda work, it seems the world they come from—the tiny but growing world of strict Biblical patriarchy—is in real danger of collapsing. While adherents to this form of Christianity, like the Duggars, like to paint an uber-wholesome face on their families and beliefs, ugly truths are finally starting to leak out regarding the problems of infidelity and alleged sexual abuse in the community.

It's hard to underestimate the importance of Phillips in the small world of extreme fundamentalists. His father is one of the most critical founding fathers of the Christian right movement generally, and Doug extended his work by largely building this culture of the far Christian right as we know it, especially if you watch 19 Kids & Counting. The Duggar family are friends and acolytes of Phillips, and Vision Forum, in turn, has used Michelle Duggar in their efforts to demonize contraception, including giving her an award for "Mother of the Year" for having so many children.

The "pitch" of Biblical patriarchy, as epitomized by Michelle Duggar, is that women will be coddled and worshipped in exchange for giving up their ambitions and the autonomy to practice an extreme form of female submission. The unpleasant truth is that a culture that teaches that women are put on earth for no other purpose but to serve men is not going to breed respect for women. Instead, these incidents show a world where men believe they can do whatever they want to women without repercussions. Is it any surprise that a subculture that promises absolute control over women will attract men who want to dominate and hurt women? Don't believe the TLC hype. Biblical patriarchy is a sour, dangerous world for women, and luckily, that reality is finally being outed.
~~~~~~~~~~~~~~~~~~~~~~~~~~
~~~~~~~~~~~~~~~~~~~~~~~~~~
Of course there are those protesting that the perfect Duggars have no real links to Phillips – Duggar Family Linked to Douglas Phillips Lawsuit? Quiverfull Lifestyle Dissected in The Examiner
The Douglas Phillips lawsuit has reality fans interested and it's not because Phillips has a reality show. Instead, it seems that the Quiverfull lifestyle, which is followed by Jim Bob and Michelle Duggar, has fans are wondering how the big family is associated, if at all, to the lawsuit. According to Radar Online on Tuesday, Douglas Phillips was sued by Lourdes Torres-Manteufel.

It is quite unfair to suggest that the Duggar family or their show "19 Kids and Counting" have anything to do with the Douglas Phillips' allegations. Yes, the Duggar's aren't a typical family, but then again that has nothing to do with the issues they are falsely attached to in the news.
Comments open below
NLQ Recommended Reading …
'Breaking Their Will: Shedding Light on Religious Child Maltreatment' by Janet Heimlich
'Quivering Daughters' by Hillary McFarland
'Quiverfull: Inside the Christian Patriarchy Movement' by Kathryn Joyce