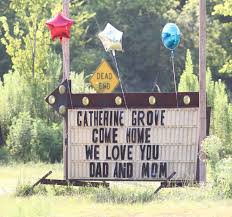 According to the Wartburg Watch and Ronald Enroth's book "Church That Abuse" the hallmarks of a cult are –
1.   Control-oriented style of leadership

2.   Spiritual elitism

3.   Manipulation of members

4.   Perceived persecution

5.   Lifestyle rigidity

6.   Suppression of dissent

7.   Harsh discipline of members

8.   Denunciation of other churches

9.   Painful exit process
This list came from a posting done about the Church of Wells, in Wells, Texas. There's been some interesting cultish doings at the Church of Wells over the years, disappearance of people into the church community with no further contact with families, the death of babies born at home without any medical care and indications that the church exerts total control over every aspect of it's members.
Here's what the Church of Wells issued as a statement last year when it came under public scrutiny –
We (the church of Wells) have been called "ugly, aggressive, confrontational, hateful, arrogant, legalistic, reckless, belligerent, prejudiced, infanticidal, isolationistic, hoop jumping, satanic, scripture twisting, family destroying, brainwashing, evil predators; used by the devil as a cultic trap and stronghold of deception and lies; who speak CRAP and GARBAGE.
Once there were many videos at You Tube of Church of Wells but they have since been removed. Plus it looks like the community at large is unhappy with their presence in that community. That community is even less happy with the Church of Wells after this weekend's brawl during a Wells celebratory parade involving church members using offensive measures to witness to small children in the crowd.
Last week ABC's show "Nightline" went into Wells and did a special on the church.
Part of recovery is being able to identify places with abusive theology so they can be avoided. Church of Wells seems to be one of those places. What do you think?
Comments open below
NLQ Recommended Reading …
'Breaking Their Will: Shedding Light on Religious Child Maltreatment' by Janet Heimlich
'Quivering Daughters' by Hillary McFarland
'Quiverfull: Inside the Christian Patriarchy Movement' by Kathryn Joyce