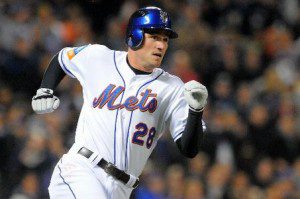 New feature for NLQ. When Patriarchy shows up in a news story as the accepted believe system in culture we'll be posting the details here. Bolded for emphasis.
From The Huffington Post:
Someone isn't going to win Father of the Year.

A prominent sports radio host told listeners that Mets player Daniel Murphy, who missed the first two games of the season, should have played ball instead of being with his wife and newborn son.

WFAN host Mike Francesa said he could understand one day of paternity leave for the birth, but he scolded the second baseman for skipping the second game.

"Go see the baby be born and come back," he said in the audio clip below. "You're a Major League Baseball player. You can hire a nurse to take care of the baby if your wife needs help."

Francesa, who has three children (two of them twins), remarked that he attended their births and worked the same day.

When you have unique employment, "you have a job to do," Francesa said.

And he wasn't alone among WFAN hosts in criticizing Murphy for not lacing up his spikes. Former NFL quarterback Boomer Esiason told morning listeners, "I would have said C-section before the season starts. I need to be at Opening Day, I'm sorry."

Mets General Manager Sandy Alderson told the New York Daily News he was happy Murphy could be with his wife.

USA Today pointed out, besides the obvious that Murphy has his union-won right to the leave, that he has been one of the Mets' most regular employees, playing in 317 games over the previous two seasons.

With far less fanfare, Minnesota Twins pitcher Brian Duensing was placed on the MLB's three-day paternity list before Opening Day for the birth of his son. But Duensing doesn't play in New York.

Last November, Memphies Grizzlies forward Zach Randolph left during a game to help his fiancee deliver their baby.

In September, Baltimore Ravens quarterback Joe Flacco learned that his wife had given birth to their second child during warmups for a game, but he proceeded to play.
There has been outrage over those statements and the idea that having a baby does not involve the father. Best rebuttal I've seen on the old Patriarchal views of letting the little lady labor on alone is from Craig Melvin of NBC – Take It From A New Dad: Why We Need Paternity Leave.
What do you think, do men need paternity leave as much as women need maternity leave?
Comments open below
NLQ Recommended Reading …
'Breaking Their Will: Shedding Light on Religious Child Maltreatment' by Janet Heimlich
'Quivering Daughters' by Hillary McFarland
'Quiverfull: Inside the Christian Patriarchy Movement' by Kathryn Joyce