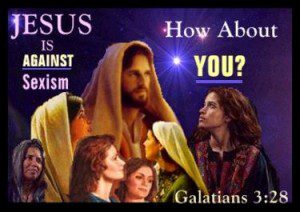 by Steven L. Anderson of Faithful Word Baptist Church – NLT and the Message Promote "Equality in Marriage"
I saw an article that someone posted about marriage that said this:

They may quote Scripture and sound super-spiritual, but behind the façade of husbandly authority is deep insecurity and pride that can morph into spiritual abuse. First Peter 3:7 commands husbands to treat their wives as equals.

In what universe does 1 Peter 3:7 teach that?! Here is what the verse actually says:

"Likewise, ye husbands, dwell with them according to knowledge, giving honour unto the wife, as unto the weaker vessel, and as being heirs together of the grace of life; that your prayers be not hindered." – 1 Peter 3:7 (KJV)

There is nothing in that verse about treating your wife as an equal. The Bible is clear the husband is the head of the wife, and that the wife should be in subjection to her husband. At first I thought that whoever wrote the article was a brazen liar. Then I realized that modern Bible perversions have changed this verse to support modern ideas about 50/50 marriage.

"The same goes for you husbands: Be good husbands to your wives. Honor them, delight in them. As women they lack some of your advantages. But in the new life of God's grace, you're equals. Treat your wives, then, as equals so your prayers don't run aground." – 1 Peter 3:7 The Message

1Pet-3-7″>In the same way, you husbands must give honor to your wives. Treat your wife with understanding as you live together. She may be weaker than you are, but she is your equal partner in God's gift of new life. Treat her as you should so your prayers will not be hindered." – 1 Peter 3:7 NLT

Notice how these new versions are not just translating what the Bible says. They are inserting their own modernistic views including queer-sounding words like "partner" and popular buzzwords like "equality." Not only that, but look how the Message butchers 1 Peter 3:6 to further promote a feminist agenda:

"Even as Sara obeyed Abraham, calling him lord: whose daughters ye are, as long as ye do well, and are not afraid with any amazement." – 1 Peter 3:6 KJV

"Sarah, for instance, taking care of Abraham, would address him as "my dear husband." You'll be true daughters of Sarah if you do the same, unanxious (sic) and unintimidated. (sic)" – 1 Peter 3:6 The Message

The goal of these new Bible versions is not to make the Bible "easier to understand." It is to change what the Bible says. Not only do the modern Bibles pervert the doctrines of Christ, they also attack traditional marriage values. To find out more about the agenda behind the new versions, check out the new documentary New World Order Bible Versions.
Comments open below
QUOTING QUIVERFULL is a regular feature of NLQ – we present the actual words of noted Quiverfull leaders and ask our readers: What do you think? Agree? Disagree? This is the place to state your opinion. Please, let's keep it respectful – but at the same time, we encourage readers to examine the ideas of Quiverfull and Spiritual Abuse honestly and thoughtfully
NLQ Recommended Reading …
'Breaking Their Will: Shedding Light on Religious Child Maltreatment' by Janet Heimlich
'Quivering Daughters' by Hillary McFarland
'Quiverfull: Inside the Christian Patriarchy Movement' by Kathryn Joyce