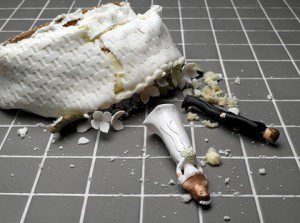 by Sam Crabtree at John Piper's Desiring God blog – Until Death Do We Part – For Real
Some disapprove, saying that Jesus allows exceptions — that is, he allows divorce in cases of adultery — but a careful reading of Matthew 5:32 shows that adultery does not nullify or overrule what God has joined together. Rather than adultery being a cause for divorce, it is the divorce and remarriage of divorced parties which causes adultery.

"But I say that everyone who divorces his wife, except on the ground of sexual immorality, causes her to commit adultery, and anyone who marries a divorced woman commits adultery." (Matthew 5:32)

In the original language, the "exception" given here ("sexual immorality") is not adultery, but literally fornication. What precisely this fornication is may not be plain (some explain it as the just breaking of a betrothal, not a marriage). It is understandably controversial, but the observation about adultery remains: It is not, in this text, the cause of divorce, but the product of divorce and remarriage.

The marriage covenant is unilateral. Just because Person A in a marriage violates his vow, doesn't mean that the vow made my Person B is nullified. The spiritual adultery of the Church does not nullify Jesus's faithfulness to his word, and thereby to his bride.

Christian covenant keeping can be costly and painful. But God honors the one "who keeps his oath even when it hurts" (Psalm 15:4, NIV). The Bible couldn't be any more straightforward: If you have a wife, do not end the marriage (1 Corinthians 7:27).

We are free to divorce when Jesus divorces the Church, which is never. (Even the divorce in Isaiah 50 is not a divorce from those he predestined, called, justified, and glorified, but rather a temporary action taken against ethnic Israel, who was never en masse the true bride in the first place.) We are free to remarry when Jesus remarries a bride other than the elect bride, which is not as long as the spouse lives.
Comments open below
QUOTING QUIVERFULL is a regular feature of NLQ – we present the actual words of noted Quiverfull leaders and ask our readers: What do you think? Agree? Disagree? This is the place to state your opinion. Please, let's keep it respectful – but at the same time, we encourage readers to examine the ideas of Quiverfull and Spiritual Abuse honestly and thoughtfully
NLQ Recommended Reading …
'Breaking Their Will: Shedding Light on Religious Child Maltreatment' by Janet Heimlich
'Quivering Daughters' by Hillary McFarland
'Quiverfull: Inside the Christian Patriarchy Movement' by Kathryn Joyce