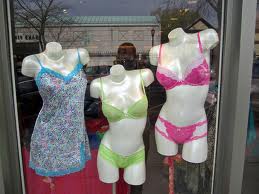 by Veronika Winkels from Ladies Against Feminism and Mercatornet.com – Shop-Window Porn Violates Children's Rights, So Let's Fight It
My sister Anna and her husband Jacob have four young children, all daughters whom they are trying to raise to value their own dignity and face the world with self-esteem and confidence.

This, they have discovered, is becoming a full time job, since today's culture seems bent on actively hindering their efforts at cultivating these virtues in their girls.

If that sounds like a sensationalist spin on the challenges of parenting today, consider this example. While driving her eldest daughter Lucia home from her first piano lesson one afternoon, Anna stops at a red light on a busy intersection in Melbourne.

As the car stands stationary, Anna notices Lucia quietly observing something outside her window. Following her gaze Anna sees, to her utter dismay, a large advertisement on the corner building depicting a pornographic scene in which two women, clad in nothing but scanty black lingerie, are sexually positioned. I personally think Anna would have been justified in running the red.

This is not an isolated incident but an indication of the permissiveness of our culture, a virtue championed only by secularist fundamentalists. More than that, permissiveness breeds apathy towards the task of nurturing a future generation with strong characters and moral integrity. This endeavour is often rejected as fostering intolerance and small-mindedness, but that too, I consider unapologetically as blatant idiocy, and the scapegoat through which one may shirk this duty.
(Editor's note: While there is no way to determine if the original author is Christian or Quiverfull this is a prime example of Quiverfull beliefs being pervasive in our culture at a core level. Plus it's a good example of the grasping at any straws Ladies Against Feminism do to justify their own stance against anything not straight out of Quiverfull thought)
Comments open below
QUOTING QUIVERFULL is a regular feature of NLQ – we present the actual words of noted Quiverfull leaders and ask our readers: What do you think? Agree? Disagree? This is the place to state your opinion. Please, let's keep it respectful – but at the same time, we encourage readers to examine the ideas of Quiverfull and Spiritual Abuse honestly and thoughtfully
NLQ Recommended Reading …
'Breaking Their Will: Shedding Light on Religious Child Maltreatment' by Janet Heimlich
'Quivering Daughters' by Hillary McFarland
'Quiverfull: Inside the Christian Patriarchy Movement' by Kathryn Joyce