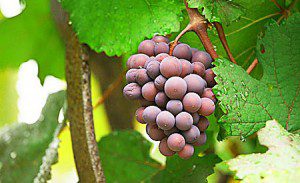 by Nancy Campbell from Above Rubies – Sour Grapes or Sweet?

I feel very sad when I see mothers with a sour face. Down in the mouth. Always a frown. And I see a lot of them. This is not God's picture of a mother. In Psalm 128:3 God paints a picture of the wife in a home that is blessed of the Lord. It tells us that she is a " fruitful vine" in the very heart of her home. Not only does this wife find joy in her home, but she is a fruitful vine, bringing forth luscious sweet fruit. The grapes of a wild unpruned vine are usually bitter. The fruit of a cultivated vine are sweet.

Just as God promises that "the mountains will drip sweet wine" (Amos 9:13) which is being fulfilled today on the hills of Samaria, so we wives should drip sweet wine in our homes. A sweet attitude toward our husband. Sweet words coming forth from our lips.

The husband in Song of Solomon 4:11 NET says to his wife, "Your lips drip sweetness like the honeycomb, my bride, honey and milk are under your tongue." Dripping sweetness. Can your husband say these words to you?
Comments open below
QUOTING QUIVERFULL is a regular feature of NLQ – we present the actual words of noted Quiverfull leaders and ask our readers: What do you think? Agree? Disagree? This is the place to state your opinion. Please, let's keep it respectful – but at the same time, we encourage readers to examine the ideas of Quiverfull and Spiritual Abuse honestly and thoughtfully
NLQ Recommended Reading …
'Breaking Their Will: Shedding Light on Religious Child Maltreatment' by Janet Heimlich
'Quivering Daughters' by Hillary McFarland
'Quiverfull: Inside the Christian Patriarchy Movement' by Kathryn Joyce