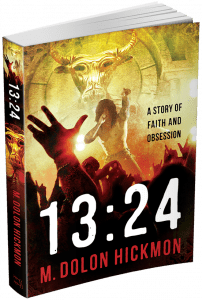 by Suzanne Titkemeyer cross posted from her blog Seeking The Light
Book Review: 13:24: A Story of Faith and Obsession by M. Dolon Hickmon
A good lesson for me is to never judge a book by its cover, literally.
Before I start my review I have to confess that when '13:24′ first came to my attention I had no interest in reading it, not even with Vyckie Garrison of NLQ's recommendation. I took one look at the cover, saw the shaggy-haired heavy metal lead singer and the animal skull above and decided this book wasn't something I'd be interested in. I knew there would be descriptions of physical and spiritual abuse and figured I was not going there again because this book would trigger me as well as be about heavy metal, a type of music that just isn't my favorite.
But I have to admit it, was I extremely wrong! When I started reading '13:24′ I was hooked from the first page. It is more than simply another book on spiritual abuse, at its heart the novel is more a who-done-it, a first rate crime novel coming from a unique angle. There are multiple stories and subjects tightly interwoven into an integral whole. It is one of those books that you cannot put down because you have to know what happens next and you're sitting on the edge of your seat dying to get to the next bit.
The procedural cop epic has always been my personal favorite since my earliest television watching days. I could easily see 13:24 as a script for "Law and Order: SVU" or my all time favorite, "Homicide: Life on the Street". You will find the type of plot twists that leave you guessing who the actual villain is. It feels very real and, like the creators of Law and Order love to say, 'ripped from the headlines.'
The book also does what great procedurals do, introduce you to something you didn't know, a new sub culture or something just outside your comfortable life. The overarching theme most don't know much about outside the world of Evangelical Christianity is the subculture that believes in physically disciplining children for any infraction, real or imagined.
'13:24′ deals with religious physical discipline of children. This is especially timely now that the Pearl's book on child discipline 'To Train Up A Child' is in the news media as being the catalyst and inspiration for the murders of Hana Grace Williams and Lydia Shatz. You see, much of the book 'To Train Up A Child' deals with the extreme Christian belief that you can make a child obey by beating him or her hard enough and long enough to 'break' their spirit with a belt, a plastic plumbing line or other hard implement.
While '13:24′ doesn't name the Michael Pearl discipline book, it is easy to make the connection with the child abuse advocated in 'To Train Up A Child' with the abuse written about in '13:24′. I only wish I could force every overzealous Pearl-follower to read the heart wrenching words of Josh, one of the main characters, as he experiences physical chastising.
I've written many a time about my first encounter with Michael Pearl's 'To Train Up A Child' upon joining my old church. My youngest was 4 years old and had been in and out of the hospital with spinal meningitis and idiopathic thrombotic purpura (a bleeding disorder) and she tended to cling to me all the time. People at the new church gave me Pearl's book and I was told I must physically discipline Laura to make her stop clinging to me. Yes, I was told to beat a child with a rare bleeding disorder to stop her from what I knew was natural behavior in a child that had been in and out of the hospital. That type of cruelty is at the heart of '13:24′.
One of the best things about '13:24: A Story of Faith and Obsession' is that it shows how wrong and twisted that type of discipline can go. As the story unfolds the main characters, Josh – lead singer of the band Rehoboam, Chris – a teenager who finds solace in the music of Rehoboam and William, a detective tasked to find the person who cut a killing swath through his town. All story lines and three main characters come together in an explosive ending that makes you question where discipline ends and sadism begins. A must read!
Suzanne is an empty nester lives near Washington DC with her husband, cats and various rescue birds. She is the administrator of NLQ. Was raised Catholic in South Louisiana before falling in with a bunch of fallen Catholics whom had formed their own part Fundamentalist, part Evangelical church. After fifteen uncomfortable years drinking that Koolaid she left nearly 7 years ago. Her blogs are True Love Doesn't Rape and Seeking The Light
Comments open below
NLQ Recommended Reading …