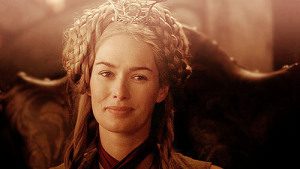 by Samantha Field cross posted from her blog Defeating The Dragons
Trigger Warning: Sexual violence
I've read G. R. R. Martin's A Song of Ice and Fire up through Feast of Crows, and I'm currently reading Dance of Dragons, albeit slowly. The books are a struggle for me to read, as an abuse and rape survivor. I do enjoy them, although I caution people to engage with Martin's world critically. He's been hailed by a lot of people as a "feminist" writer, but I am extremely hesitant to think of him in those terms (read Sady Doyle's piece there– it's both hysterically funny and insightful).
Since the beginning, I have appreciated both Sansa Stark and Cersei Lannister as characters. Cersei, up until Storm of Swords, was an extremely relatable character for me– she was forced into a difficult position by the expectations of her father, of her culture, and of her husband, but she did what she could to find happiness in the midst of an abusive marriage and constant rape. There isn't a lot about her that I would describe as noble, but she felt realistic to me, and I found myself grudgingly admiring her.
And then Storm of Swords happened, and Martin makes it blatantly obvious that we're all supposed to hate her now because she's ridiculously incompetent– completely robbed of sense because, well, lady-hormones. I don't really follow Game of Thrones as a show, but I'm a part of online nerd/geek communities, so I have a passing familiarity with what the show is like.
Last week, everything in that part of my internet circles exploded because of the rape scene, which a lot of people are insisting diverges from the books. I find that accusation a little amusing because Robb Stark doesn't even marry the same woman in the show, but this scene seems to matter to people a little bit more for inexplicable reasons. I wouldn't be bothered by the scene diverging from the book– it is a completely different medium, and the artists — the writers, the directors, the actors, the editors– are already telling an entirely different story than the one Martin originally penned, and in a lot of ways I think the direction they've taken is intriguing (from what I can tell).
However, in this one scene they stayed true to the book.
Jaime does, in fact, rape Cersei in the sept next to Joffrey's dead body.
She kissed him. A light kiss, the merest brush of her lips on his, but he could feel her tremble as he slid his arms around her. "I am not whole without you."

There was no tenderness in the kiss he returned to her, only hunger. Her mouth opened for his tongue.

"No,"

she said weakly when his lips moved down her neck, "not here. The septons…"

"The Others can take the septons." He kissed her again, kissed her silent, kissed her until she moaned. Then he knocked the candles aside and lifted her up onto the Mother's altar, pushing up her skirts and the silken shift beneath.

She pounded on his chest with feeble fists, murmuring about the risk, the danger, about their father, about the septons, about the wrath of gods.

He never heard her.

He undid his breeches and climbed up and pushed her bare white legs apart. One hand slid up her thigh and underneath her smallclothes. When he tore them away, he saw that her moon's blood was on her, but it made no difference.
That is rape. There is no other word for this scene. Jaime raped Cersei, full stop.
And, honestly, by this point in the books a rape scene would cause yawn, well of course a woman got raped it's Martin writing this for heaven's sake what did you think would happen? There are various things to be said about how often people are raped in Martin's fantasy world, but I'm not really here to critique the existence of rape in his books. It's what he does with it, and this scene in particular, that deeply, deeply troubles me, because of what happens next:
"Hurry," she was whispering now, "quickly, quickly, now, do it now, do me now. Jaime Jaime Jaime." Her hands helped guide him. "Yes," Cersei said as he thrust, "my brother, sweet brother, yes, like that, yes, I have you, you're home now, you're home now, you're home."
This, I have a problem with– because this is a rape myth. It actually gets a freaking number on the Women Against Violence's list of "Rape Myths"– it's #17: "When a woman says no, she really means maybe or yes." It's the idea that women secretly all want it, they just have to be persuaded. Horrifically, "with my dick" can finish that sentence without the person immediately retching at the utterly revolting idea just expressed.
In Martin's world, hysterical shrew-bitch women like Cersei Lannister do not get to have their "no" listened to (and we get to say "no" for whatever the HELL reason we want), and strong, handsome, virile, maiden-defending men like Jaime get to fuck them anyway because actually, she really does want it and I just know because . . . well, no reason– and look, see, she's getting off on my awesome manly ravishing of her! Wow, bitches by cray, amiright? Let your little freak flag fly, Cersei!
But, horrifyingly, this isn't a rape scene to a disturbing number of people. Chris Ostendorf described it as "complicated consensual sex." To a lot of people, that she's saying no to the circumstances somehow makes it not real rape. She would have had sex with him, if it wasn't for his hand, or where they were, or the septons, or their father somehow finding out, etc.
I have a gigantic, rage-inducing problem with this for the simple reason that when I told my rapist "no,"
that is exactly what I sounded like.
I couldn't physically stop someone almost twice my weight, and so I did everything within my power to
persuade
him to stop. I told him it hurt– he did not stop. I told him "no," he did not stop. I told him "please, not now," he did not stop. I said "what if your parents come home?" but he did not stop. I told him I didn't think it was right ("wrath of the gods,") and he did not stop.
Finally, I gave up and tried not to let him see me cry because I knew he would hurt me even more if he did. When he assaulted me again, and again, and again, and again, and Again, and AGAIN, I learned that it would all just be over if he got what he wanted. He would leave me alone and go and play Halo if I just played along, no matter how much he hurt me, no matter how often I vomited after because what he made me do to him disgusted me.
So, for all of you people who are arguing that Jaime didn't rape Cersei:
FUCK YOU. FUCK YOU TO FUCKING HELL.
To George R. R. Martin, the twisted fuck who wrote this scene and is perpetuating the exact rape myth that has caused me unending agony: fuck you. To Nikolaj Coster-Waldau (who plays Jaime), who thinks because "it wasn't just [rape]" it's somehow justifiable: fuck you. To Sonia Saraiya who thinks there's "wiggle room" in whether or not we think Cersei "enthusiastically consented": fuck you. To Chris Ostendorf, who given the chance would describe my rape as "complicated consensual sex"– fuck you, too. Fuck you all.
*edit: in speaking with a friend about this post, I realized I need to make something clearer. My problem with this scene in the book (for this post, at least) isn't that Martin has written yet another rape scene. It's that what he's written is a rape myth– a chauvinistic fantasy about male-centric sex that ignores or denies women the ability to consent. Cersei told Jaime no seven different ways, but then suddenly starts begging for it– literally. This is an extremely dominant myth about the difference between rape and consensual sex, and it is a lived experience for many women and men.
When I discovered that "playing along" with my rapist's assaults and rapes meant that I would experience much less pain and suffering and the event would be over much faster, I began acting out his pornographic fantasies about sex in order to appease him. There was nothing I could do to stop him from assaulting me or raping me– not my words, not physical resistance, and I was trapped in an abusive relationship. Playing along was how I survived.
Martin believes that this is not rape because of the rape myth he believes in– that our culture believes in. Cersei's apparent enjoyment of her rape (and remember, this scene is written from the rapist's point of view, not the victim's, and most rapists think that their behavior is acceptable and normal) in the real world of modern America could be a survival mechanism for an abuse victim– and usually is. Martin does not think that Jaime raped Cersei here, because he believes that women can be manipulative whores who say no in order to be "hard to get," but in reality really just need to be sexually assaulted into silence and then fucked into realizing what the rapist knew all along– that she actually wanted it.
This is one of the most grievous lies of rape culture.
Samantha grew up in the homeschool, patriarchy, quiverfull, and fundamentalist movements, and experienced first-hand the terror and manipulation of spiritual abuse. She is now married to an amazing, gentle man who doesn't really get what happened to her but loves her anyway. With him by her side and the strength of God's promises, she is slowly healing.
Samantha blogs at Defeating The Dragons and is a member of The Spiritual Abuse Survivor Blogs Network
Comments open below
NLQ Recommended Reading …