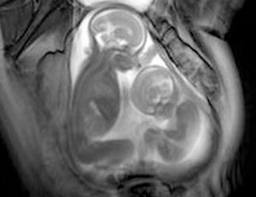 Just like many of you dear readers we have been following Zsuzsanna Anderson, the wife of Arizona pastor Steven L. Anderson at her blog, Are They All Yours!!, and watching her recent struggles with a high risk pregnancy. Thankfully the medical treatment she received for Twin to Twin Transfusion Syndrome helped her deliver a normal healthy baby boy.
Recently Steven was in the media for decrying all birth control because it was destroying the USA. He claimed that with birth control women weren't busy enough, causing them to join 'whoredom' That's the short version at least. We wrote about his problems with birth control. The Anderson's are also anti-vaxers and before this last pregnancy they were very much opposed to going to doctors or using conventional medical treatments.
But Alternet is asking questions, the same questions many of us have had since learning of the medical problems with the twins Zsuzsanna was carrying.
Steven Anderson's multi-hour diatribe against contraceptives, the tools that allow thoughtful, intentional healthier

childbearing, sounds like the ranting of a madman. Here is a man who has gone so far down the rabbit hole of bibliolatry that he now lives psychologically in the Iron Age universe of the Bible writers. And yet, faced with the complicated options offered by modern medicine — choices far beyond the grasp of our Iron Age ancestors — Anderson and his wife transcended the authors of the Bible and even Martin Luther, author of the Reformation. They chose life in spite of their "pro-life" rhetoric; they chose it even when it meant choosing death. Confronted with a crisis decision that would traumatize any of us, they faced it with dignity and data, and they did the best they knew how for their family.
Zsuzanna Anderson is upset that Alternet has started asking questions about their faith and how it might have been changed or compromised when Zsuzanna and Steven had to make hard decisions in that place where the rubber meets the road. She is concerned that anyone might think that they compromised their beliefs in what they did.
But the Alternet article – Bible-Thumping Pastor Believes Women Shouldn't Interfere With 'God's Will' in Pregnancy – Except His Own Wife by Valerie Tarico, isn't necessarily bad, it only holds up a mirror to what has already happened and the changes that occur inside when we have to make those hard resolutions to life's problems.
The hopeful, inspiring part of the Anderson story is the reminder that often when dogma and love clash, love wins out. When it does, the very same reasoning capacity that has been put to work defending dogma can be repurposed in the service of compassion and connection. That is why, when queer Americans persisted in telling their stories despite the risk, the needle started moving on marriage equality.

To date, the most powerful tool of the anti-abortion, anti-contraception patriarchs has been shaming, often in the name of the biblical God. Many women make difficult decisions about pregnancies — courageous, complicated decisions that are worthy of honor. Like Mrs. Anderson, we struggle to live wisely and well, to give our children the best possible chance in life within the framework of our moral and spiritual values whether those values are religious or secular. But instead of being honored, these difficult decisions and the women who make them often become the targets of judgment and denigration. Alone and ashamed, women lose their voices to the point that they don't share some of the most crucial moments in their lives with even their sisters and daughters.
What do you think?
QUOTING QUIVERFULL is a regular feature of NLQ – we present the actual words of noted Quiverfull leaders and ask our readers: What do you think? Agree? Disagree? This is the place to state your opinion. Please, let's keep it respectful – but at the same time, we encourage readers to examine the ideas of Quiverfull honestly and thoughtfully.
Comments open below
NLQ Recommended Reading …