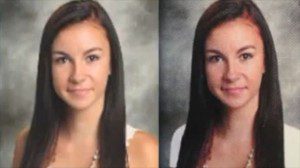 from Michael Stone at his blog Progressive Secular Humanist – American Taliban: Utah Modesty Police Edit Girls' Yearbook Photos
Editorial note: This has been all over the media the last few days. Apparently Good Christians/Mormons ™ decided that tank tops and bra straps were the big No-No and decided to keep Utah boys pure of lustful thoughts by photoshopping (badly) sleeves onto shirts covering shoulders and bra straps. More slut-shaming in this modesty standard that wasn't even applied consistently.
Modesty standards and slut shaming isn't just for Biblical Patriarches, Minthegap's Adam Gregorin and church busybodies any more.
Administrators claim the students knew about the dress code's modesty requirements, and also claim that students were warned that their pictures might be edited.

Taking a defiant stance, the Wasatch County Superintendent would only admit the school erred in not applying the same rules to each student.

"We only apologize in the sense that we want to be more consistent with what we're trying to do in that sense we can help kids better prepare for their future by knowing how to dress appropriately for things," said Terry E. Shoemaker, who is the superintendent of schools for the Wasatch County School District.

However, critics find the unauthorized photoshopping of the girls yearbook photos deeply disturbing, and reflect the power of the notorious Mormon modesty police in the state of Utah.
Read the entire posting at Patheos Progressive Secular Humanist
Comments open below
NLQ Recommended Reading …