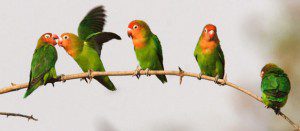 from Ladies Against Feminism and Christian Worldview – What Should an Abused Spouse Do?
Trigger warning for harmful advice. The posting at Ladies Against Feminism and Christian Worldview has a very triggering photograph of abuse.

My suggestion is that you tell your husband that you want to be married to him, and that your goal is reconciliation, but that you are no longer willing to live under abuse. He has a choice to make. He needs to seek help, counseling and accountability through a local church, walking out repentance over time (I'd recommend six months for emotional abuse and at least a year for physical abuse) before you are willing to live with him again. The ball needs to be in his court. You are not divorcing him, but you are also not willing to be the brunt of his abuse anymore.

When/if you decide to separate, you will need to have a game plan. If your situation is dangerous, you may want to consider getting a restraining order (which is hard to obtain without evidence of physical abuse), contacting a domestic violence help line to find a domestic violence shelter in your area (for a short-term place to stay)  and line up  family or friends who are willing to house you (perhaps even in a secret location) on a longer-term basis until you find a more long-term dwelling you can afford. Depending on your situation, this transition process can be very dangerous for you and your children, so think it out well, pray and plan strategically, and move decisively.

If you go to a state-run women's shelter, they will tell you to divorce your husband. If you talk to many people in the Church, they will tell you to divorce your husband. We need to remember that not only does God say He HATES divorce (Malachi 2:16), but divorce is NOT a simple solution that makes all of our troubles go away! There are custody battles, child support wars, split visitation, the influence of the other spouse when your children are away from you with him (or her), the possible remarriage of your spouse and the introduction of a new step-parent into your child's life, and on and on. Divorce is nasty and ugly. It is not God's design.
Read the entire article at
Christian Worldview.net
If you are being abused by your husband or wife NLQ urges you to leave, leave  immediately, go to a shelter, to law enforcement, to family and friends, but please leave. You are worth fighting for. Contact the National Domestic Violence Hotline at 800.799.7233
QUOTING QUIVERFULL is a regular feature of NLQ – we present the actual words of noted Quiverfull leaders and ask our readers: What do you think? Agree? Disagree? This is the place to state your opinion. Please, let's keep it respectful – but at the same time, we encourage readers to examine the ideas of Quiverfull honestly and thoughtfully.
Comments open below
NLQ Recommended Reading …