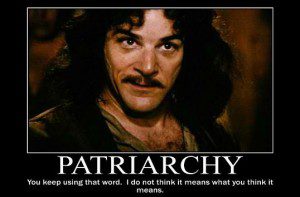 Another prominent Biblical Patriarchal leader denouncing the word.
by James McDonald of Family Reformation Magazine and the Providence Church – The "P" Word
And, so it is with the "P" word; the word we know as patriarchy. In our day, patriarchy is quickly becoming a pejorative. It has come to mean, "selfish, overbearing tyrant who seeks to dominate and suppress women and children." And, let's be clear, there are those who embrace that term and fit the bill. They have behaved as if the world revolves around them and that women and children exist only to serve them.

However, the true definition of the term patriarchy does not refer to a position of dominance, rather it refers to a position of servanthood. The word comes from two Greek words: patria, which means father, and arche, which means to rule. In other words, patriarchy refers to a government where the father is responsible before God for the nurture and care of those placed under his charge. Serious stuff.
Read the full blog post at the Providence Church website
Our Libby Anne has written a thought-provoking article pointing out that all these various patriarchal ministries distancing themselves from the word 'Patriarchy' are still patriarchal. Read it at Libby Anne's site Love, Joy, Feminism – The Shell Game Revealed.
QUOTING QUIVERFULL is a regular feature of NLQ – we present the actual words of noted Quiverfull leaders and ask our readers: What do you think? Agree? Disagree? This is the place to state your opinion. Please, let's keep it respectful – but at the same time, we encourage readers to examine the ideas of Quiverfull honestly and thoughtfully.
Comments open below
NLQ Recommended Reading …