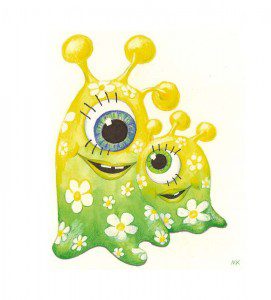 by Erin Harrison from No Greater Joy Magazine – The 'ME' Monster
Later, I met this man, a guy who was working with Mark on a job. Something drew me to him. He looked at me and told me, even as I smiled, that there was a sadness in my eyes. It was like a gift. I opened up to this person I did not even know, and he told me how sinful I was. Me? Sinful? I was sinned against as an innocent child. I was rejected by nasty people. I was hurt and in pain. How could I be to blame in this? At first it made me angry.

He told me that I was so focused on "ME" that I actually put "MYSELF over everything and on the throne."

He said this because I had been telling him, "I am home all day taking care of these kids, and my husband comes home and says he is too tired to help. What about me? I am tired! Furthermore, I want to raise my kids Amish; my husband won't allow me to do this; what about my dreams? What about how I feel? They are my kids too! I have been through so much. I, I, I, and what about me, me, me" (notice the "ME" monster). That was my sin. Depression is selfish. When you are depressed, you are only thinking about yourself—about poor and unfortunate ME. I was seeking my own. That man forced me to look at my heart. I hated him for it, but I realized later, as I really thought about it, that as a Christian I am not here for ME. I am here for a purpose. Christ did not come to die so that I could worry about ME.
Read the rest at No Greater Joy Ministries website and let us know in the comments what you think.
QUOTING QUIVERFULL is a regular feature of NLQ – we present the actual words of noted Quiverfull leaders and ask our readers: What do you think? Agree? Disagree? This is the place to state your opinion. Please, let's keep it respectful – but at the same time, we encourage readers to examine the ideas of Quiverfull honestly and thoughtfully.
Comments open below
NLQ Recommended Reading …