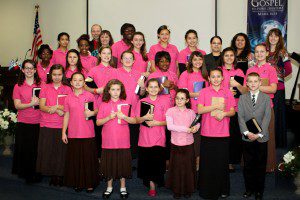 by Bruce Gerencser cross posted from his blog The Way Forward
Marvelous Grace Girls Academy
My friend, Teresa Frye sent me the following press release about Marvelous Grace Girls Academy:
FOR IMMEDIATE RELEASE
OKALOOSA COUNTY FLORIDA JUDGE DISREGARDS FLORIDA CUSTODY/VISITATION ORDER, RESULTING IN MINOR CHILD'S CONFINEMENT IN CONFIRMEDLY ABUSIVE FLORIDA FACILITY
An Okaloosa County Judge's refusal today to uphold a custody/visitation order presented to him is preventing a mother who traveled from Nevada from being with her 14 yr. old child. The child is unwillingly held and allegedly being hidden from her mother and local law enforcement at the Marvelous Grace Girls Academy located at 3111 Zepp Lane in Pace, Fl.
Marvelous Grace is directed by a man named Steven Blankenship.
Marvelous Grace, formerly "New Beginnings Girls Academy", is an unlicensed, Fundamental Baptist "teen behavior modification" residential "school" for troubled girls. This "Christian ministry" was most recently featured in an award winning series in the Tampa Bay Times, written by investigative reporter Alexandra Zayas:
In God's Name: Abuse At Religious Group Homes In Florida
http://www.tampabay.com/faccca/group-homes/marvelous-grace-girls-academy
Watchdog groups have compiled first-hand testimony from former residents of these unregulated-by-the-state-of-
Robert Norton
Robert Norton, a fourth grade teacher at Izard County Consolidated School District in Brockwell, Arkansas and  pastor of Franklin Baptist Church (no website) , has been arrested and charged with 24 counts of possession of child pornography. The Baxter Bulletin reports:
A former fourth-grade teacher at Izard County Consolidated School District, who also served as a pastor at Franklin Baptist Church for many years, has been charged on 24 child pornography counts, according to Izard County Sheriff Tate Lawrence.

Robert Jackson Norton, 52, was arrested after an investigation in which the Izard County Sheriff's Office assisted the Arkansas State Police, the lead agency in the case, according to Lawrence. Authorities say Norton downloaded child pornography on his home computer.

Norton, of Sage, is being held in the Izard County jail in lieu of a $240,000 bond, according to Lawrence. Were he to be convicted on all charges, Norton could be sentenced to spend up to 240 years in prison and be fined up to $240,000.

Jackson resigned his positions as a teacher and a pastor, according to Lawrence…

…"He was a preacher at Franklin Baptist church for years and years. He had an impeccable reputation. He is Tate Lawrence's brother-in-law — the sheriff's brother-in-law even. I couldn't have been more shocked," Walker (school superintendent)  told The Bulletin. "It's one of those deals where it's a person you'd least expect it of. He's not been found guilty, I'm not saying that, it's just hard to believe."…

…."It's just a tragic situation, a shocking situation," Walker said. "I hate it for the district, for the community, and the people he was a pastor for. That's a church that has done a lot of good things. It's just a tragic situation."
John Balyo
35 year old John Balyo was arrested this week of child sex charges. Balyo worked for radio station WCSG, a Christian radio station in Grand Rapids, Michigan. The station is owned by fundamentalist Christian Cornerstone University. Wfmynews2.com reports:
WCSG Radio announced Saturday that it has fired personality John Balyo after the 35-year old Caledonia resident was arrested Friday on child sex charges.

Cornerstone University released this statement Saturday: "Effective today, John Balyo is no longer affiliated with WCSG Radio. Chris Lemke, general manager of WCSG, will address this matter on-air at 7:30 am during Monday's (June 23) WCSG morning show."

Balyo was arrested on charges of first-degree criminal sexual conduct.

He was arrested around 11:30 a.m. Friday at the Big Ticket Festival, a Christian music gathering near Gaylord. The arrest was made by officers with Homeland Security Investigations (HSI), Michigan State Police, and the Battle Creek Police Department.

Authorities say Balyo allegedly paid another person, who is a defendant in another child exploitation case, to arrange for sexual encounters with minor victims. Further details are being withheld until Balyo appears in court.

Authorities say the investigation was conducted under HSI's Operation Predator, an international initiative to protect children from sexual predators.

As Cooley Law professor and human trafficking expert Chris Johnson explains it, Balyo is accused of being a customer.

"I think the terminology would be a 'John' — that in itself is not going to be human trafficking," Johnson said. "The person he went to in order to secure the child would be the one who would be guilty of human trafficking."

Federal and state agents say that person is 41-year-old Ronald Lee Moser of Battle Creek. He ran a website offering paying customers sex with underage boys.

Earlier this month when police raided Moser's home, they say they found him with a 12-year-old boy and confiscated child pornography.

Professor Johnson says pimps with prostitutes who are underage are not uncommon.

"Many times when you do have a brothel that's raided, you do end up finding child victims, unfortunately, that are involved in the commercial sex trade…according to the Department of Justice, the average age a person enters prostitution in the United States is between the age of 11 and 13 years old, so there is quite a prevalence of people who have sexual appetites with children."…
Timothy Ngwu
Finally, Nigerian pastor, Timothy Ngwu, impregnated 20 women in his church/ According to police:
"the pastor claims to be obeying prophetic/spiritual injunction to do the will of God, which is to impregnate any one chosen and revealed by the Holy Spirit, irrespective of whether the woman is married or not."
The Police in Enugu State have arrested one Timothy Ngwu, the General Overseer of Vineyard Ministry of the Holy Trinity, located at Ihe/Owerre, Nsukka in Enugu State.

Before his arrest on Friday, the self acclaimed Pastor, who said he was obeying God's command, has put no less than 20 members of his church in a family way.

DailyPost gathered that Ngwu does not spare married women in his evil act….

When the woman is delivered of the baby, the child remains in the ministry with the mother for life".

Amaraizu added that "Vineyard Ministry of the Holy Trinity, located at Umudikwere, Ihe/Owere Nsukka in Enugu was not known until DSP Gloria Udoka and her operatives from the Anti Child Trafficking unit of the state criminal and investigation department, stormed the place based on the complaint they received from wife of the Pastor, Veronica Ngwu, bordering on sexual abuse of people in the ministry, which has brought about indiscriminate pregnancy among married and single women in the ministry.

"According to Veronica, her husband used to be a well known catechist in Nsukka Catholic".

It was further disclosed that while acting under the same alleged will of God, the Pastor got his wife's niece pregnant.

"Some of the members' wives are now living with him after he impregnated all of them", the statement added.

Reacting to the allegations against him, the General Overseer stated that he has about five wives with thirteen children, apart from other concubines, who came as a result of the prophetic will of God.

He claimed that he does not do anything with any married woman until full consent and agreement is reached between him and the husband in line with the directives of the holy Spirit.

Two of the women, who had left their husband and are now living with the General Overseer, Calista Omeje, and Assumpta Odo confirmed that they left their husband and went to the General Overseer based on the prophetic injunction to do the will of God.

Calista revealed that she is married to her husband with ten children, and that she was impregnated by Timothy, though the baby later died.

She further disclosed that she also gave her daughter out to the General Overseer to be impregnated in fulfillment of will of God.

Assumpta Odo also confirmed the development, pointing out that she is also married with eight children and that the pastor impregnated her as well as her daughter

~~~~~~~~~~

Spiritual Abuse Survivor Blogs Network member, Bruce Gerencser blogs atThe Way Forward.

Bruce Gerencser spent 25 years pastoring Independent Fundamental Baptist, Southern Baptist, and Christian Union churches in Ohio, Michigan, and Texas. Bruce attended Midwestern Baptist College in Pontiac, Michigan. He is a writer and operates The Way Forward blog. Bruce lives in NW Ohio with his wife of 35 years. They have 6 children, and nine grandchildren.
Comments open below
NLQ Recommended Reading …