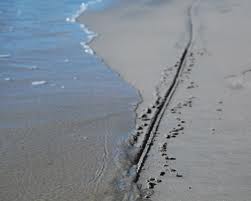 by Nancy Campbell of Above Rubies – The Line of Demarkation (sic, Nancy lacks spelling skills too)
To which kingdom do you belong? God's kingdom is a kingdom of life, love, light, and liberty. Satan's kingdom is one of lies, deception, death, and destruction. He is a murderer! That's what Jesus said in John 8:44, "He was a murderer from the beginning, and abode not in the truth; because there is no truth in him. When he speaketh a lie he speaketh of his own; for he is a liar, and the father of it."

Because he is a murderer, no wonder he is the mastermind behind birth control, sterilization, and abortion. His plan is to stamp out life before it is conceived, but abort it if it is conceived.

The Scriptures tell us that the Father has "delivered us from the authority of darkness and transferred us into the reign of the Son of His love " (Colossian 1:13). Therefore, is it right to live in His kingdom and still adhere to the principles of the old kingdom? Don't you think we should be loyal subjects of God's kingdom?

Can we confess one thing and do another? We have to decide whose kingdom we belong to. If we truly belong to God's kingdom we must stand with life because God is a God of life. He is originator of life. He loves life and loves every new baby that is conceived.

If we side with terminating life, or even hindering life before it is conceived, we can't be a hypocrite. We must confess that we side with the enemy and therefore are not loyal subjects of His kingdom.
QUOTING QUIVERFULL is a regular feature of NLQ – we present the actual words of noted Quiverfull leaders and ask our readers: What do you think? Agree? Disagree? This is the place to state your opinion. Please, let's keep it respectful – but at the same time, we encourage readers to examine the ideas of Quiverfull honestly and thoughtfully.
Comments open below
NLQ Recommended Reading …