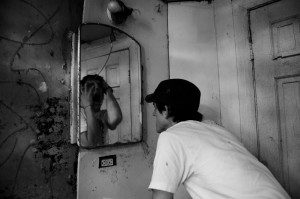 by Michael Pearl from the latest No Greater Joy Magazine – Who Defines You?
The piece below is followed by an awkward segue into a salvation call and then an attempt to raise money for the ministry
If as an adult you feel that you are burdened with a negative self-image, blaming your parents or your early environment is just digging the hole deeper. It is acquiescence to your inherited handicap. You are like a liberated slave who won't leave your place of despised captivity because you were born there and don't know anything else. You validate your captor's opinion that you are not fit to self-govern, to succeed, to amount to anything apart from their enslaving oversight. The hurt you feel, the anger, the resentment, excuses, and emotional weakness are just links in a chain around your neck that you keep affixing to your past. You are allowing those in the past to define your present and your future.

I know you would like to get a little sympathy, some appreciation for the hardships you have suffered, or maybe you'd like to hear someone say, "I am sorry; it was my fault that you are not whole." But as you sit and lick your wounds, the world just passes you by on its way to success and happiness. People are cheerful and talking animatedly. They all have friends and are excited about life, but you are defeated inside—alone. Other people get the breaks, the opportunities, but not you; everything comes hard for you. You fear that what your parents, school teachers, and others have said about you is true: you will never amount to anything. Someone repeatedly slapped you, and long after they are gone you are slapping yourself. Even I have slapped you with, "Your present state is now your fault." I wouldn't do this to you if I didn't have a sure cure. You don't have to accept definitions of self from the past. Hang in there a little longer; help is a few paragraphs away.
Read the entire piece at
No Greater Joy
QUOTING QUIVERFULL is a regular feature of NLQ – we present the actual words of noted Quiverfull leaders and ask our readers: What do you think? Agree? Disagree? This is the place to state your opinion. Please, let's keep it respectful – but at the same time, we encourage readers to examine the ideas of Quiverfull honestly and thoughtfully.
Comments open below
NLQ Recommended Reading …