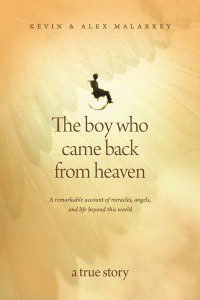 by Bruce Gerencser cross posted from his blog The Way Forward
(Editor's note: This piece is an excellent example of the Evangelical tendency to dramatize or even outright lie in order to have a testimony convincing enough to reach the 'unsaved' Lying for Jesus. This child's father is despicable for making money off his son's tragedy and giving not one penny of the monies made towards the long term care this child needs.)
Last week, I posted a review of The Boy Who Came Back From Heaven by Kevin and Alex Malarkey. After my review hit the internet, Beth Malarkey, the mother of Alex, contacted me via Twitter. She let me know that Alex, now a teenager, did not write the story and he does not agree with what is in the book.
On her blog, Life's a Journey, Beth wrote:
I never intended this blog to be a place that I would have to defend my son ALex's indentity let alone the journey that he and he alone has endured. I started this blog as a "fun" thing to do and with the intention of maybe sharing some hope and bits of wisdom that has been learned through the struggles. I have taken this blog down from time to time not sure what to do with it and NEVER wanting to make it appear as if any of the people that I write about are extraordinary individuals…

,,,This past week a movie based off the book Heaven is for Real came out. I have not read the book, do not plan to, and am strongly opposed to the movie. Let's just say that the Burpo book and the book that has Alex's name listed as coauthor (The Boy Who Came Back From Heaven),as does the Tyndale Publishing website (can not understand how that can be), have a few things in common which I will not get into on here. I am trying to defend my son and truth. Here is something to think about….

It is both puzzling and painful to watch the book The Boy who Came Back from Heaven to not only continue to sell, but to continue, for the most part, to not be questioned. I could post facts and try to dispel many of the things contained within the pages of that book (have done a bit of that), I could continue to try to point out how Biblically off the book is (a few strategically placed scriptures does not make a book Biblically sound) and how it leads people away from the bible not to it (have done that as have others including John MacArthur and Phil Johnson), I could talk about how much it has hurt my son tremendously and even make financial statements public that would prove that he has not received monies from the book nor have a majority of his needs been funded by it (a fund that was set aside by a friend a few years ago has actually been paying for most things in the past few years but that fund is dwindling), I could…..but it seems like many people want to believe what they are given despite the wrong that it may be doing or the wrong that was done in the making of it.

When Alex first tried to tell a "pastor" how wrong the book was and how it needed stopped, Alex was told that the book was blessing people. Ok…first, Alex said that while he was struggling physically and trusting this person as someone who seemed to be concerned so the person was invalidating Alex's feeling while justifying the wrong that Alex was trying to make that person aware of. . The person told Alex to "trust" him. Alex is the ONLY one that supposedly had the experiences being written about(Alex was a 6 year old and coming out of major brain trauma…note I am not saying what is true and not just that Alex was a kid with major brain trauma which alone should raise questions as to validity) Alex is the ONLY one who has endured not only a horrific set of injuries, but having his journey capitalized on. His struggles are NOT past tense nor is the "story."

The ones making money from the book are NOT the ones staying up through the night, struggling for their breath, or were they the ones at six years old, waking up unable to move or breathe and in a strange place after last remember seeing a car coming right at the car he was riding in. What I have walked through with Alex over the past nine years has nearly broken me personally and spiritually. I have wept so deeply for what I have watched my children go through, been made aware of how ignorant I was of some things, how selfish I was, and how Biblically illiterate I was which allowed me to be deceived! Sure, I had read my Bible A LOT, but I had not studied it. I had listened to teachings but probably enjoyed more ear tickling than I am still even aware of(for that I repent and have experienced deep sorrow) I am so thankful that God is so merciful and patient. I am thankful that God allowed me to go ahead and fall for the junk that I did(and it was that junk)for I am fully aware of what it feels like to be pulled in.

There are many who are scamming and using the Word of God to do it. They are good, especially if you are not digging into your Bible and truly studying it. They study their audience and even read "success" books to try to build better and bigger…"ministries/businesses". Please, examine what you see and read. I see many things from a different vantage point because of how much I have witnessed and am witnessing first hand…not second hand. I will remain puzzled and remain seeking truth in the Word of God! One more time..Alex did not write the book and it is not blessing him! Saying that it is blessing others to try to justify its wrong is just that…justification of wrong!
Beth is divorced from Kevin Malarkey and continues to be Alex's primary caregiver.
Spiritual Abuse Survivor Blogs Network member, Bruce Gerencser blogs atThe Way Forward.
Bruce Gerencser spent 25 years pastoring Independent Fundamental Baptist, Southern Baptist, and Christian Union churches in Ohio, Michigan, and Texas. Bruce attended Midwestern Baptist College in Pontiac, Michigan. He is a writer and operates The Way Forward blog. Bruce lives in NW Ohio with his wife of 35 years. They have 6 children, and nine grandchildren.
Comments open below
NLQ Recommended Reading …