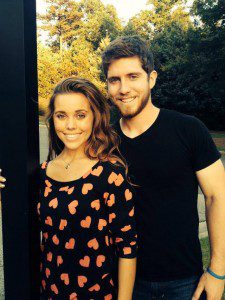 According to The Daily Mail and Celebitchy Jessa Duggar's court-er Ben Seewald posted a long anti-Catholic rant on Facebook that mysteriously disappeared about an hour later. Wonder if the Duggars or TLC made him take it down?
From Celebitchy – Jessa Duggar's Boyfriend Posts Rant Against Catholics, Then Deletes It
Ben Seewald, the staunch Christian boyfriend of 19 Kids and Counting star Jessa Duggar, 21, has been forced to delete an anti-Catholic rant he posted to his Facebook page last week, after it caused a social media storm, reports RadarOnline.

The 19-year-old, from Hot Springs, Arkansas, vented his 'problem' with the Catholic faith, slamming the religion for suggesting that Jesus' mother Mary was a 'sinless being,' and quoting scripture to support his views.

'Where [Catholics] depart from Scripture, I will in no way support, but will call them out because I love them and desire that they be turned from their deadly errors,' the frothy diatribe read.

'I have nothing against individuals who are Catholic,' the post read. 'I know a lot of Catholics who are great people. What I DO have a problem with is the teaching that man can merit God's favor through his own works or the works of other fallen men.'

It continued: 'I DO have a problem with the teaching that man can come to God through Mary or any other person besides Jesus . . . I DO have a problem with the deification of Mary as a sinless being.

'Mary herself admitted her need for a Savior. If she had no sin, she would need no Savior.'
According to the article this isn't Seewald's first goat rodeo of posting hateful rants on Facebook.
What is this all about?
Oh and Seewald also posted this photo last month of Jessa with a semi-automatic rifle. Shootin' up sh*t for Jesus!
Comments open below
NLQ Recommended Reading …