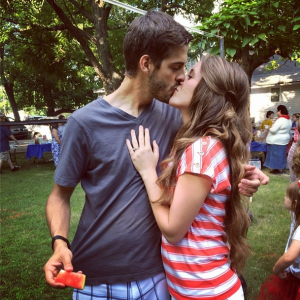 Celebitchy is speculating that Jill Duggar Dillard and her new husband Derick might just be vying for their own reality show. From Celebitchy – Are Jill Duggar and her new husband, Derick Dillard, gunning for their own reality show? 
Now that they're back home, Jill has Instagrammed photos with Derick in which they're kissing, doing couples stuff like making dinner and going to breakfast, and one where she's cutting Derick's hair. They're somewhat personal photos, is what I'm saying. A lot of people share things like that on their Facebook, but this is on an open Instagram page. These people are somewhat famous and Jill knows that everything she posts will be picked up by the media.

Of course I'm wondering if Jill and Derick are hoping to get their own reality show on TLC. (I didn't come up with that, I read that somewhere but can't find that source again.) I think Jill is currently staying home (she told People Derick comes home from work for lunch with her), and while Derick works he surely doesn't make as much as he could by going into the Duggar reality show business.
Read the entire article at Celebitchy
Would not put this past Jim Bob Duggar re getting the kids their own show.  With that being said there is something I am curious about. That money that Jim Bob gets per episode, last season 1.2 million per episode and this new seasons 2.4 million, does any of it get put aside for the children and/or divided up among the grown children? Even the Honey Boo-Boo family puts their episodic money in a trust for the kids. What about the Duggars?
Comments open below
NLQ Recommended Reading …