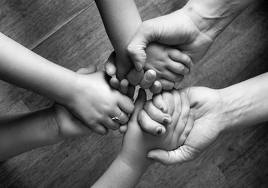 There's a type of spousal abuse that we're not spoken of here at NLQ –  Financial Abuse.
What is financial abuse?
It's when a partner controls the money of the household so tightly that there isn't any or enough given over to meet the basic needs of the other partner and/or children. By controlling all of the family finances the controlling partner puts the other under their complete control, even if there is no physical or verbal abuse this is also now considered spousal abuse.
Huffington Post did a story recently on financial abuse filled with horrifying tales of what some women have had to live through before escaping their controlling partners.
"Abusers have always been financially controlling, but recently abusers are forcing their victims to apply to payday lenders with absolutely no intention of ever paying back the loan, forcing their victims to obtain student loans and then working to sabotage her education, and forcing their victims to put all credit card debt and loans in her name while putting all assets in his," the advocate wrote in a comment read aloud at a panel discussion.

"In the past, domestic violence victims would leave with nothing but their children and the clothes on their back," the note concluded. 'Now they leave with crushing debt."

"Financial abuse, whether you're talking about ruining her credit, getting her fired or hiding the money, is just as effective in controlling an abused victim as a lock and key," said Kim Gandy, president of the National Network to End Domestic Violence. "If your credit has been ruined, you can't get an apartment. If you've been fired twice because your abuser harasses you at work, you can't get a job. Women are literally being forced, because of financial dependency, back into abusive relationships."
Read the entire horrifying article
"Financial Abuse Takes Heavy Toll on Domestic Abuse Survivors" at Huffington Post
Comments open below
NLQ Recommended Reading …