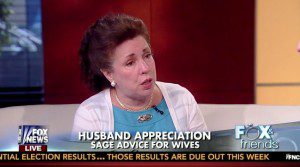 No, for a change this isn't Debi Pearl advising you to bend over backwards, sideways and upside down to keep pleasing your man. This came from Fox News a few days ago. Think Progress did a story on the "Princeton Mom" Susan Patton and her recent appearance on Fox News – Husband Appreciation – Sage Advice For Wives.
"If you are in your mid-30s or older the idea that you're going to find yourself another husband, almost impossible," Patton predicted. "And if you don't believe me ask your maiden aunt, she will tell you when she's done feeding the cats."

And who's to blame for society's unappreciative attitude towards men? "Antagonistic feminists," of course. Patton argues that activists have forced an "overcorrection" to American culture, in which society has gone from completely ignoring women's rights to becoming overly sensitive to their needs. In one particularly strange example, Patton has complained that the rape that occurs between acquaintances — commonly referred to as "date rape" — should be called "mistake sex" to avoid diminishing "the true horror of rape."
The great comedy of Patton giving out any marital advice is that she is very recently divorced. But she's just as toxic as Debi Pearl and her advice on keeping husbands happy. I guess she needs to get a few cats now according to her own advice.
You can watch the segment on the
Think Progress website
Comments open below
NLQ Recommended Reading …