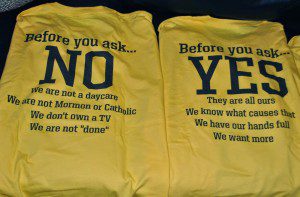 by Zsuzsanna Anderson from her blog Are They All Yours!?!?! – If I Had a Nickel Everytime Someone Said
Is it really rude to comment when you see families much larger than the norm? It seems to me if you have made up the t-shirts in that photo, you name your blog 'Are They All Yours' and you go out in numbered matching t-shirts you're openly seeking attention. What do you think?
If I had a nickel everytime someone said…
"Wow, you sure have your hands full!"

I typically just ignore whoever says it, because I HATE that comment! If it's a nice old lady, I might give her a big friendly smile. If it's a rude jerk, I might say, "Wow, I've never heard that before!" But most of the time, I just pretend I didn't hear them.

Yes, I have my hands full. Is that wrong? And is that the most creative thing you can think of? And could you kindly stop communicating the message to my kids that they are a burden, whether that's what you are trying to say or not? Just because you are stating an obvious fact does not make it okay to say (again and again and again and again). Do you really think you are the first person to say that?
QUOTING QUIVERFULL is a regular feature of NLQ – we present the actual words of noted Quiverfull leaders or their followers/enforcers and ask our readers: What do you think? Agree? Disagree? This is the place to state your opinion. Please, let's keep it respectful – but at the same time, we encourage readers to examine the ideas of Quiverfull honestly and thoughtfully.
Comments open below
NLQ Recommended Reading …