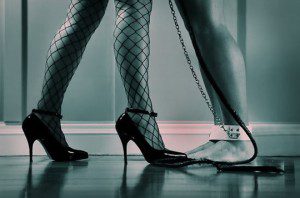 by Matt Walsh from The Matt Walsh Blog – To the women of America: 4 Reasons to Hate 50 Shades of Grey
As you may have noticed, the first 50 Shades of Grey preview debuted this week. Apparently it premiered on the Today Show at 8AM, which surely enchanted the millions of parents who might have made the mistake of turning on network television in the middle of the morning while their kids were in the room. Silly moms and dads, what makes you think you can do something like that without being greeted by a nice dose of sadomasochism and stylized sexual violence? Besides, why do you even have problem with a trailer for a movie based on a book that romanticizes a sociopathic pervert who sexually dominates a young, impressionable woman? Puritans. Your kids are in preschool now, it's about time they learn about this stuff.

The preview seems to have reinvigorated 50 Shades of Grey fever. My social media feeds have been clogged by, fortunately, plenty of women condemning the movie (and the book) for its idiocy/immorality, but also many women excitedly proclaiming their eagerness to see it. In a startling and unsurprising twist, I've noticed that some of the women who give me a hearty 'AMEN' every time I write a post condemning pornography, are the same ones gushing frantically about this film. They don't want their husbands watching porn, but they'll not only watch and read porn themselves — they'll advertise that fact to the entire world. As if the hypocrisy isn't bad enough, they had to add in a touch of public emasculation.
What do you think dear readers? Is 'Fifty Shades of Grey' the end of the world as we know it or has Matt Walsh created another straw man/false enemy?
QUOTING QUIVERFULL is a regular feature of NLQ – we present the actual words of noted Quiverfull leaders or their followers/enforcers and ask our readers: What do you think? Agree? Disagree? This is the place to state your opinion. Please, let's keep it respectful – but at the same time, we encourage readers to examine the ideas of Quiverfull honestly and thoughtfully.
Comments open below
NLQ Recommended Reading …