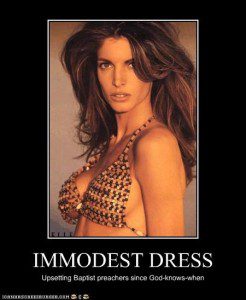 by Tony Reinke in John Piper's blog Desiring God – Is Feminine Modesty About Sex?
Men and women serve each other here. A godly Christian man refuses to treat women as objects of lust, humanizes them, and shows respect to his sisters in Christ as fellow heirs (Romans 8:17). A Christian woman, modestly dressed, serves her brothers in Christ, honors her husband (1 Peter 3:1–6), and removes an unnecessary obstruction from her testimony of personal godliness in society and the church (1 Timothy 2:8–15).

Whether or not men are also called to a standard of modesty in fashion is a relatively new conversation in the church, and one we need to think through together in the future. But what we do know is this: clothing was God's idea (Genesis 3:21), and modesty was God's idea. He finds this modesty precious. It honors him. It honors boundaries of sexual purity. It honors marriage. It honors churches. It honors God's design for biblical masculinity and femininity.
There are some hits, misses and not entirely bad ideas in this piece but the ultimate message seems to be dress modestly because God demands it. Read the
entire blog posting at Desiring God.
QUOTING QUIVERFULL is a regular feature of NLQ – we present the actual words of noted Quiverfull leaders and ask our readers: What do you think? Agree? Disagree? This is the place to state your opinion. Please, let's keep it respectful – but at the same time, we encourage readers to examine the ideas of Quiverfull honestly and thoughtfully.
Comments open below
NLQ Recommended Reading …