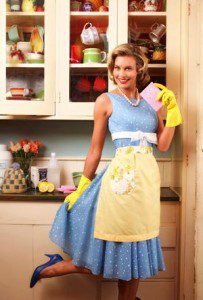 by Emily from her blog Raising Homemakers – So You Think You Should Go To Work?
Maybe you know the Scriptures that clearly state that the woman's job is to be a keeper at home, but you think to yourself…"Well…I can have a job and be a keeper at home!"  Well, if you are away from home, at a job, you cannot be keeping the home.  You simply will not be there to keep it if you are at a job.

Note:  This is not to condemn any woman who is working outside of the home against her own desires.  It is to dissuade women who would willingly take on this responsibility that is not theirs, and to encourage other women who are bombarded with guilt for doing their God-appointed duty of keeping the home.

If you are having any of these thoughts or problems with others regarding your proper duty of being a wife, homemaker, and mother, I want to encourage you to go read a story called When Queens Ride By.  It will show you how you can best help your husband and children, even in these hard times.
QUOTING QUIVERFULL is a regular feature of NLQ – we present the actual words of noted Quiverfull leaders plus those followers that would seek to enforce Quiverfull standards on everyone and ask our readers: What do you think? Agree? Disagree? This is the place to state your opinion. Please, let's keep it respectful – but at the same time, we encourage readers to examine the ideas of Quiverfull honestly and thoughtfully.
Comments open below
NLQ Recommended Reading …