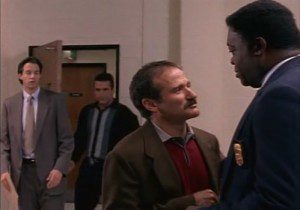 I'm sure by now you've heard that comedian and actor Robin Williams took his own life yesterday. While Robin wasn't Quiverfull or part of the fundamentalist evangelical Christian world his passing reminds us all again that those in the CPM believe all sorts of myths about depression and how to handle it. They marginalize the condition and treat depression sufferers as though they caused the condition themselves. No compassion and no encouragement to seek healthy treatment.
Even as Robin Williams made so many people laugh he himself suffered from depression for many years. 
So in an effort to repudiate the wrong thinking, the Evangelical Christian myths about depression and suicide I am sharing this piece written by Justin Vollmar and posted in the Independent Fundamentalist Baptist Cult Survivor's group on Facebook.  Godspeed Robin Williams.
About Robin Williams' tragic suicide…

Clinical or chronic depression is a mental illness that will inflect anyone, whether if they are rich or poor or religious or a nonbeliever. Getting professional help and medical treatment is the better approach to this problem. Unfortunately, I know that most of churches and various religious institutions take an combative approach to psychology and counseling. This is unfortunate and morally wrong, as it would deprive vulnerable and desperate people of getting real professional help. Praying or meditation would not relieve severe depression during the 'black moods.'
If you have experienced depression frequently. Seek professional help! Do not try to keep it to yourself. Or try type "therapists or counselors" nearby your area on the Google. Medicare or insurance will help pay for services. We have many wonderful mental health services.

Your life is so precious. Do not foolishly gamble your life on superstitiously hoping there is a better life beyond death. Nobody actually know what takes place after the death. In a worst scenario, what if there is no life beyond death? Your suicide would be more tragic as your precious life has been snuffed out permanently. It is better to struggle for life and cherish your limited time on Earth. It is better to shallow your pride and step forward to receive help.

Rev. Justin Dean Vollmar
Atheist, Theologian, Vlogger
Humanist Minister

PS: feel free to share, perhaps it could save someone's life today.
Many people who struggle with depression may feel shame and feel compelled to hide their problems. They do not realize that chronic or clinical depression is due to chemical imbalance in the brain. It also can be caused by trauma in your life. Experiencing depression usually cause you to feel hopeless and manifest self-destructive behavior/thoughts. Even successful people could experience depression in despite of their success. It is not a choice but an unfortunate mental illness.