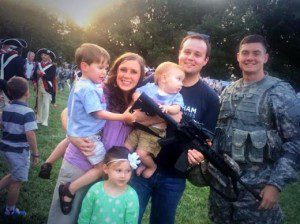 …. right before a new season of '19 Kids and Counting' premiering on The Learning Channel. So that brings with it a bumper crop of odd Duggar-related stories as their PR machine kicks into high gear. We'll spare you all the articles celebrating Jill and Derick Dillard's 'weekiverseries'
Rather than do a posting of each one I'm just going to list them here.
Josh Duggar poses with assault rifles and toddlers
Michelle Duggar talks special wedding gift
Ben Seewald's mea culpa for his anti-Catholic rant turns into a 'Come To Jesus'
Josh Duggar and family release DVD showing them preaching at the White House and other venues
More speculation on Jessa Duggar and Ben Seewald and from the Duggar wedding planner
Why the Duggars are not good representatives for the Anti-Choice movement
Michelle Duggar explains how to keep your brood behaving on airplanes
Jill Duggar's wedding planner talks about the wedding preparations 
Conservative website finally discovers the Duggar's friends, the Bates and mistakenly thinks they are posed to take over the Duggars spot in the public eye.
Shhh! Don't tell them that the Bates have already had their own reality tv show.
…and there are scores of articles on the upcoming season, all the weekly anniversaries of Jill and Dereck, and Ben Seewald's Catholic bashing that would be repetitive to post here.
Comments open below
NLQ Recommended Reading …