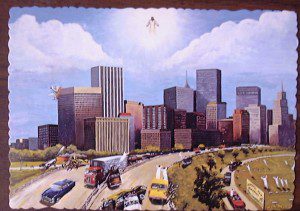 Coming out of Texas is some rather disturbing information on why one homeschooling family decided not to teach their children the basic minimum of education.  Because they were convinced that the Rapture was coming soon and with the soon return of Jesus educating their was a waste of time.
From Addicting Info – Texas Conservative 'Christians' Didn't Educate Their Children Because They Believe The Rapture is Coming
A couple from Texas lost their case in court last week after they argued that their religious freedom was violated by the state because they didn't educate their children.

Back in 2004, over-obsessed "Christians" Michael and Laura McIntyre yanked their nine kids from the private school they had been attending in order to homeschool them instead. But rather than actually provide their children with a proper education complying with the state curriculum, these parents decided not to bother because they believe the rapture is coming.

The rapture is most associated with the fundamentalist "Christian" belief that believers will be snatched up by God while everyone else is left on Earth to face suffering. It appears the McIntyres read the 'Left Behind' book series one too many times, so they neglected giving their kids the schooling they need to function in society.
Comments open below
NLQ Recommended Reading …