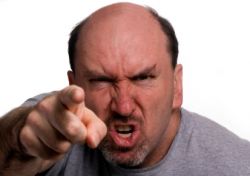 by Colin Campbell from Meat For Men – The Pioneering Spirit: Pulling Down Strongholds
There is much more to obeying Jesus Christ than we realize. Many believe that as long as somewhere in their lives they answered an altar call to receive Christ as Savior, were obedient to be baptized, and go to church regularly, that this is all that is required of them as far as obedience is concerned. The truth is that we are exhorted to be obedient to the everyday leading of the Holy Spirit which validates us as true sons of God. Romans 8:14 says "For as many as are led by the Spirit of God, they are the sons of God."

There is another area where we need to be very obedient and is in the area of our thought life.

It is in our thought life that the real spiritual battle rages. It is in the thought life where the enemy of our souls builds up his strongholds. These strong places in our minds where the enemy wants to dwell may be places of fear, insecurities, moods that control not only oneself but also others around us, and impure and unclean thoughts which if allowed to continue will destroy the immature and weak Christian and negatively affect others as well.

Anger and an overly-controlling spirit can destroy your marriage and fatherhood. Many marriages suffer destruction because of this. Worldly thinking and being more concerned with self are fortresses that must be brought down by the use of spiritual weapons. Ambition for fame and men's applause, and addiction to money or any other addiction are strongholds that have to be torn down.
QUOTING QUIVERFULL is a regular feature of NLQ – we present the actual words of noted Quiverfull leaders or their followers/enforcers and ask our readers: What do you think? Agree? Disagree? This is the place to state your opinion. Please, let's keep it respectful – but at the same time, we encourage readers to examine the ideas of Quiverfull honestly and thoughtfully.
Comments open below
NLQ Recommended Reading …