This one is from a Korean gossip site but it appears to be true. Visited the Duggar Instagram site and sure enough, they are using an offensive graphic linking abortion to slavery. Cannot copy the graphic so I'm just linking to it on their Instagram. It's from a Pro Life site called StandTrueDotCom, which is linked to Operation Rescue and run by prominent pro-lifer Bryan Kemper from Ohio. The graphics at the site are pretty over the top and we'll be posting a number of them at the end of this post.
From KPopStarz.com – '19 Kids and Counting' Duggar Family Compares Abortion to Slavery on Instagram: Twitter Users Outrage, Jessa Duggar Retweets to Support
'19 Kids and Counting' Duggar family compared abortion to slavery on their Instagram and Twitter. This made Twitter users very angry, but one of the daughters of '19 Kids and Counting' Jessa Duggar retweeted to show support. But Jill Duggar, married to Derick Dillard, didn't acknowledge the post. Is she rebelling from the Duggar family?

They tagged the picture, "Legality does not equal morality… Slavery was legal. #AbolishAbortion".

This, of course, made many Twitter users angry and even unfollow Duggar family's account.

Karen W wrote, "@duggarfam @JessaSeewald Are you going to financially support all of the babies that are born? What about kids conceived due to rape?"

Miss Tina said in response, "@duggarfam Very telling how you never, EVER say, "abolish poverty" Or, "abolish war". Or, "abolish rape".

As a very religiously committed household, Duggar family opposes abortion and the use of some contraceptives. They have an iron-clad restrictions on who their kids can date and "court".
You'd think that the Duggars would have learned by now that you cannot piss off your fans and expect to keep high ratings of their television show.
Here are some of the graphics that StandTrue encourages their followers to use in social media.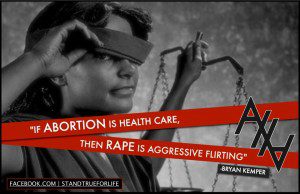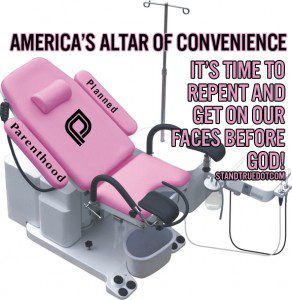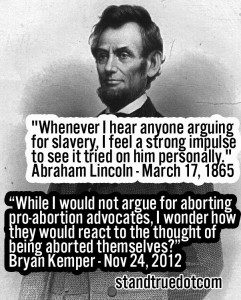 QUOTING QUIVERFULL is a regular feature of NLQ – we present the actual words of noted Quiverfull leaders or their followers/enforcers and ask our readers: What do you think? Agree? Disagree? This is the place to state your opinion. Please, let's keep it respectful – but at the same time, we encourage readers to examine the ideas of Quiverfull honestly and thoughtfully.
Comments open below
NLQ Recommended Reading …