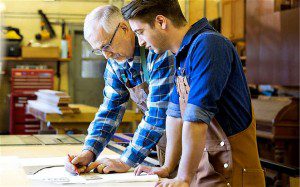 by Amy Roberts from her blog Raising Arrows – True Education is Not About Making a Living
(Editor's Note: We've been discussing who it is out there that is actually taking the disgusting words of Kevin Swanson seriously? This author is. She quotes Swanson in this bit on education.)
You see, I have a 16 year old who is very close to finishing up all of his required high school credits in our state.  The natural conveyer belt of our society says the next step is college, but Blake isn't sure he wants to go to college.  He's a very intelligent, very driven young man and although I wanted to respect his decision, I felt myself lurching inside

Would he be able to get a good job without a college education?

Isn't every smart child supposed to go to college?

How would people react to him not going to college?

(notice how that last one is all about MY pride?)

Government education has truly become a system of institutionalized thinking.  There aren't many "outside-the-box-ers" these days.  The goal does seem to be to get a child through high school so they can get through college, so they can get a better job than their parents, but if you look around you will see a lot of college graduates struggling to do just that.  And often, their answer is to go BACK to college for another round.  Piles of information, good test taking skills, and very little to show for it in the way of real world experience.  In the words of Kevin Swanson,
"It's like taking 12 years of bike and never getting on one."
Common Core is supposed to help change some of this, but all I see there is more of the same…fill heads with information they won't retain and teach a test so hopefully they'll get a good enough grade to get into college and…then what?

As I continued to read in the Clarkson's book, I found myself deeply convicted to stop secretly wanting my son to be like everyone else (I say secretly because I would NEVER have admitted that I even remotely wanted any of my children to be INSIDE the box) and use these young adult years to give my son even more opportunities to become who God has created him to be because "true education is not about making a living but about making a life." (<— this is a topic explored even more within the pages ofEducating the Wholehearted Child.)

How we educate is important.  It runs much deeper than filling heads with information.  It runs much deeper than college prep or employment skills.  It starts when you child is very young and you allow them to be children full of wonder and curiosity for God's great grandeur.  It continues as you cultivate a home environment that is full of love and respect for the individual image-of-God child, as well as plenty of free space and time to explore personal interests and and God-gifted leanings.  And as your child nears the end of childhood and adulthood is in sight, it becomes a time in which you guide your child toward using those interests and leanings where making a living becomes a reality because they've made a life.
QUOTING QUIVERFULL is a regular feature of NLQ – we present the actual words of noted Quiverfull leaders or their followers/enforcers and ask our readers: What do you think? Agree? Disagree? This is the place to state your opinion. Please, let's keep it respectful – but at the same time, we encourage readers to examine the ideas of Quiverfull honestly and thoughtfully.
Comments open below
NLQ Recommended Reading …