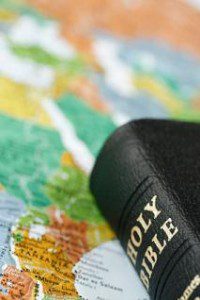 by Mary Pride at Homeschool World – Homeschooling Invaded by Marketers 
Most of the article is bemoaning the fact that major mainstream publishers and suppliers to the public school systems have started to target the homeschool brigade with their material.
You and I do have some voice in all this.

We can vote with our pocketbooks, demanding that products for homeschoolers meet our standards. At a bare minimum, this should include honoring the family, recognizing the religious nature of holidays such as Thanksgiving and Easter, encouraging actual virtues such as honesty and kindness rather than phony virtues such as self-esteem, and teaching useful skills quickly without a lot of busywork twaddle. We shouldn't have to fight our way past illustrations of ghosts, witches, and vampires to use their workbooks. We shouldn't be treated to sibling nastiness and parental indifference as "normal" behavior. Daycare , divorce, and depression should not be on the scholastic menu. The myths of overpopulation, echo-apocalypse, and evolution should not be presented as scientific fact. The weight of the world's political problems should not be dumped on our kids' shoulders, and they should not be pressured to become pint-sized propagandists for politically correct points of view.

There are enough products out there already to choose from. We have no need to put up with the very same problems in our homeschool materials that we left the public schools to escape.
Question of the day: If you're homeschooling your children is it really wrong to use products not put together by the Christian homeschooling movement? Wouldn't you want to take advantage of the best available resources out there?
QUOTING QUIVERFULL is a regular feature of NLQ – we present the actual words of noted Quiverfull leaders or their followers/enforcers and ask our readers: What do you think? Agree? Disagree? This is the place to state your opinion. Please, let's keep it respectful – but at the same time, we encourage readers to examine the ideas of Quiverfull honestly and thoughtfully.
Comments open below
NLQ Recommended Reading …