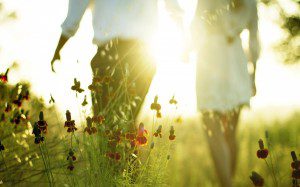 by Mrs. Anna T as posted at Ladies Against Feminism and from her own blog Domestic Felicity – Courtship for the fatherless generation: how to get on the right track?
Interesting thoughts on how to conduct courtship or if you even qualify to court if you have no father and you have a past.
Kelly, over at 'Families against Feminism', wrote a series of posts about courtship (no longer available). Kelly's posts are always so interesting, and this subject touches my heart so deeply in particular, that I feel I simply must expand a bit about my experience.

What comes in your mind when you hear the word 'courtship'? Personally, I immediately think of a sweet, pure young woman, blushing in excitement as her loving and protective father is having a man-to-man conversation with her courtier, behind closed doors. Then the young ones spend some time together, under the supervision and guidance of their parents, and prayerfully decide to get married. They have the incredibly beautiful gift of timid, innocent romance, of their first kiss – on their wedding day. The bliss! The many blessings God showered on this young couple!

This is, in my opinion, how things should be. This is what I want for my sons and daughters, if I'm blessed with children. But I know very well – painfully well – that in this generation, not every young woman will have this gift. And to you, dear friends, I'm writing this right now.

You have suffered the consequences of our culture. Maybe, like me, you grew up without even knowing your father, without a proper example of a good, godly marriage, and without being taught anything about God's plan for relationships between men and women. Most likely you already had painful dating experience; maybe you suffered abuse and neglect, or had to face the Peter Pan syndrome of men who 'aren't ready for commitment' at 40. Maybe you even come from an abusive marriage, unsure you will ever be able to rebuild your life.
QUOTING QUIVERFULL is a regular feature of NLQ – we present the actual words of noted Quiverfull leaders or their followers/enforcers and ask our readers: What do you think? Agree? Disagree? This is the place to state your opinion. Please, let's keep it respectful – but at the same time, we encourage readers to examine the ideas of Quiverfull honestly and thoughtfully.
Comments open below
NLQ Recommended Reading …