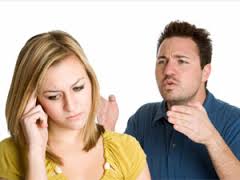 by Adam Gregorin from his blog Minthegap.com – So What's There to Talk About? Review of Lou Priolo's book "The Complete Husband"
(Editor's Note: Remember this guy? He had the website IsThisModest.com with the hundreds of photos contained flimsy-dressed teenagers under the guise of clucking over their lack of modesty..Yeah, he is back, but without the Christian Man Porn of immodest photos.)
So, practically, this means that we, as husbands, need to be talking to our wives.  If you need a handful of suggestions about what to talk about, he provides a few:
Bible Doctrine – Does your wife feel comfortable talking with you about what the Bible says?  Asking you questions?

Your home – It's the "base of operations" for your wife's ministry.  "The condition and appearance of your home is probably more important to her than you realize."

The children – Dad, your (sic) the manager in the home, and you're the one ultimately responsible.  You should be talking about your children.

Your job – Since she's your helper she may be able to help you better if she knows what's gone on during your day– no matter how much you don't want to talk about it.

Her family (your in-laws) – There have been many Biblical conflicts that had inlaws at the center of them.  You need to have Biblical conversations about her family and their influence.

Her friends – Do you care about who she chooses as friends?  They can influence her for good or evil.  You have an outside view in, you should be giving her the benefit of your perspective.

Her ministries (inside and outside of the home) – "Life is a ministry."  Are you encouraging her to minister outside the home?  Are you helping her discover her gifts for service?

Her goals for the future – Personal goals, goals of mutual interest, and other goals she has should be exciting for us as well.

Specific ways you can be a better husband and father – Again with the humility.  But then again, she is a helper, and has a perspective that we don't.  "When was the last time you asked you wife for her evaluation of how you're doing in these areas?"

Things you do which bother her – This topic is guaranteed to provide you hours of interesting discussion.
QUOTING QUIVERFULL is a regular feature of NLQ – we present the actual words of noted Quiverfull leaders or their followers/enforcers and ask our readers: What do you think? Agree? Disagree? This is the place to state your opinion. Please, let's keep it respectful – but at the same time, we encourage readers to examine the ideas of Quiverfull honestly and thoughtfully.
Comments open below
NLQ Recommended Reading …