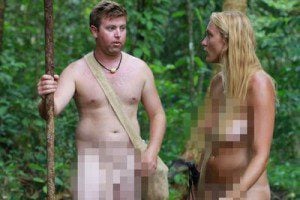 by Tony Reinke at Ladies Against Feminism and at Desiring God – What We Learn From Nude Reality TV
We laugh when little children run down the neighborhood sidewalk unclothed, chased by an embarrassed and apologetic parent. There's a funny innocence to it in the life of a child who, to some degree, is ignorant of sin. In the same way, when men and women show themselves nude in public, they act like children, like ignorant children dumb to the fires of sexual lust that fuel the most unspeakable crimes in this world. Nobody can be protected from this. Even within the safe haven of a church will arise men who "have eyes full of adultery, insatiable for sin" (2 Peter 2:14).

To stoke the flames of lust between perfect strangers, and broadcast that to a national audience, is to fuel sexual expression outside of the proper boundaries of covenant marriage. In this post-Fall world, the last thing we need is people intentionally enflaming the powers of lust. Our hands are full enough trying to extinguish the forest fires of sex trafficking, adultery, and every other kind of sexual sin. To leverage the power of lust to boost ratings is to expose a child-like ignorance of evil.
QUOTING QUIVERFULL is a regular feature of NLQ – we present the actual words of noted Quiverfull leaders or their followers/enforcers and ask our readers: What do you think? Agree? Disagree? This is the place to state your opinion. Please, let's keep it respectful – but at the same time, we encourage readers to examine the ideas of Quiverfull honestly and thoughtfully.
Comments open below
NLQ Recommended Reading …