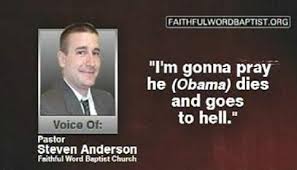 by Steve L. Anderston of Faithful Word Baptist Church from a sermon at Youtube of last Sunday's sermon.
From this sermon:
https://www.youtube.com/watch?v=35zq2–nTYE
"Let the woman learn in silence with all subjection. But I suffer not a woman to teach, nor to usurp authority over the man, but to be in silence."
He quoted I Corinthians 14 as his reason
"Let your women keep silence in the churches, for it is not permitted unto them to speak, but they are commanded to be under obedience as also sayeth the law. And if they will learn anything, let them ask their husbands at home: for it is shameful for women to speak in the church,"
He said it's alright when women chat and visit before church, and it's certainly right to sing worship songs, but that's all. Women must stay silent in his church outside of those two times.
"But when it's learning time, it's silence time. See what I mean? So what it's saying is that they are to learn in silence."

"When the learning is going on, they aren't permitted to speak. When the learning is happening they are to be in silence. When the preaching–first of all, it's not for a woman to be doing the preaching. Second of all, it's not for women to be speaking. The Bible's really clear on this. Even if they were to have a question, they're not to ask that question in the church."

"This is why I don't believe that women should be saying "Amen" during the preaching, either. "
Why? Because Anderson doesn't think ladies should not express opinions on sermons.
"Amen" means, "That's true,"
QUOTING QUIVERFULL is a regular feature of NLQ – we present the actual words of noted Quiverfull leaders or their followers/enforcers and ask our readers: What do you think? Agree? Disagree? This is the place to state your opinion. Please, let's keep it respectful – but at the same time, we encourage readers to examine the ideas of Quiverfull honestly and thoughtfully.
Comments open below
NLQ Recommended Reading …