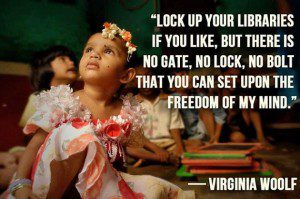 Ophelia Benson of The Free Thinker has written an awesome take down of the blog post we shared a small part of recently by Karl Heitman. You remember Karl? He's the pastor that said he would not allow his daughter to go to college if her motives were not right. Here is what Ophelia had to say about Heitman's upset at the idea of women being educated like men are:
What he means, of course, is that the idea that girls and women are human beings just as boys and men are, and should have access to education just as boys and men do, has infiltrated the Christian culture so thoroughly that even Christians are shocked that he plans to prevent his daughter from getting an education.
There's a nice mention of NLQ's Vyckie Garrison and the fund raiser to save Vyckie's home. Please considering helping our founder stay in her home of many years. She's given so selflessly in the cause of healing from spiritual abuse, helped so many writers find their voice and encouraged them to tell their stories. The fund is getting ever closer to the full amount but we still need a few more people to give.
A huge thanks to everyone who has already given! Your support means the world to Vyckie!
Read the entire article at The Free Thinker
If this is your first time visiting NLQ please read our Welcome page and our Comment Policy!
Comments open below
NLQ Recommended Reading …