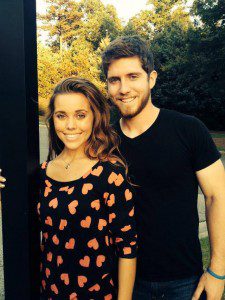 According to both People magazine and CDN the four hour courting commute between Hot Springs, Arkansas and Tontitown, Arkansas is too much for Jessa's fiance Ben Seewald. So he's leaving his business, his college and his parents to move in with the Duggars.
Interesting development and one that seems more likely to be geared toward providing new content for the television show.
Ben Seewald is moving to the Duggar homestead, where his courtship with Jessa can be captured for the TLC show, 19 Kids and Counting.
Isn't Ben the one that had his own established business in Hot Springs? Guess this was more important than continuing on in his own business. Does this mean that Ben will eventually be joining the Duggar business brand?
Seewald, 19, will "work for his keep" while being able to spend more time with his intended, to whom he recently proposed. According to Jim Bob Duggar,


"We have so many projects to do that we need help for — everything from construction projects to keeping the grass mowed to putting roof on a building, paperwork and things like that — and we asked him if he would be interested in moving up here so that Jessa and his relationship could be really accelerated … [Seewald] was all for it and his parents were happy about it"

But the same 'no touch' chaperon rules still apply according to Jim Bob.
"They always have a chaperone," Jim Bob explains. "It has just worked out great. It is a little more labor intensive for Dad – we did set a curfew. By midnight, every night, we need to make sure everybody is back in their place. Jessa and Ben have set up their own courtship standards. They did not hold hands until they got engaged. After they got engaged, they started holding hands. Just like Jill and Derick, they will be saving their first kiss for their wedding day.
Read more at CDN and People Online
Comments open below
NLQ Recommended Reading …