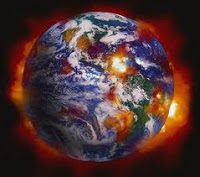 by Michael Pearl from No Greater Joy – How to Survive the Coming Apocalypse Part 1
or as I like to call it 'Fear-Mongering 101'
Michael has written a series of posts on what to do if those 'evul liburuls' he likes to rant about bring about the end of ordered society. This is the first of those, complete with a fake letter to the Pearls asking for help.
First: The Letter
Dear Mr. Pearl,

We live in the suburbs of a fairly large city. We homeschool our six children and also home church. We are very concerned about the way our country is going. There are so many bad things happening in the world, and the signs point to the coming of antichrist and the tribulation. We talk about moving to a remote place to live so we can protect the children when everything falls apart, but we do not have the slightest idea where to begin. If we could find a place and live around people of like mind who could help us get started, we would probably make the move. Do you have any recommendation? Do you know of a community of believers that has room for one more family?
This is followed by Michael going down a long, long rabbit hole to explain his and Debi's history with CPS, the John Birch Society and other crazy-sounding conspiracy end of the world thoughts. Revealing. Emphasis in the paragraph is mine.
By the late seventies, Deb and I had begun homeschooling, a practice unheard of in Memphis, Tennessee. After three hostile visits from Child Protective Services (CPS) with threats to take away our children, and then our big day appearing before the judge, we were beginning to wonder about a 1984-like scenario and Big Brother. Could the John Birch Society and its kind be right? We were pressed to form plans to escape the hand of those who "knew best what was good for our children." The kids knew the signal that meant they were to go to the basement, climb up on the washing machine, open the window quietly, and slip through the woods to an old, abandoned barn about one mile away and wait for their grandparents to pick them up and take them out of state to a secret location.

After several visits and warnings from CPS, a certified letter delivered by a sheriff notified us to bring our children and appear in the judge's chamber on Monday morning at ten o'clock. We stowed the children for hasty departure from the state and went to see the judge alone. It was the first volley in a battle we fought and eventually won, but it did not give us any confidence in the goodwill of what I now knew to be our socialist government.
After spilling Pearl family history Michael finally gets to the answer, sort of:
But just because we have peace on the inside and can overcome the world, that does not mean I want to be thrown into the fiery furnace, or go hungry, or be vulnerable to a political system hostile to traditional family and Christianity. It would be foolish to sit on my faith and take lightly the possibility of coming hardship and deprivation. We should prepare but not panic. We should plan while we pray. We should get ready but remain steady. While laying up our treasure in heaven, we should lay up a store for the day of famine here on earth. Did not God warn the Egyptians of hard times coming? And did not their preparation see them through the days of dearth? Noah received a warning of coming judgment and "prepared an ark to the saving of his house" (Hebrews 11:7). While believing in God's care and provision, we can save him a miracle by using the brain he gave us to take care of ourselves. "But if any provide not for his own, and specially for those of his own house, he hath denied the faith, and is worse than an infidel" (1 Timothy 5:8).
Why is anyone taking any advice from this guy? Why is it that so much of the Christian Patriarchy Movement is consumed with believing the worst is just around the corner and that they have to personally prepare for some apocalyptic doomsday scenario? Part 2 tomorrow.
QUOTING QUIVERFULL is a regular feature of NLQ – we present the actual words of noted Quiverfull leaders and ask our readers: What do you think? Agree? Disagree? This is the place to state your opinion. Please, let's keep it respectful – but at the same time, we encourage readers to examine the ideas of Quiverfull and Spiritual Abuse honestly and thoughtfully.
Comments open below
NLQ Recommended Reading …