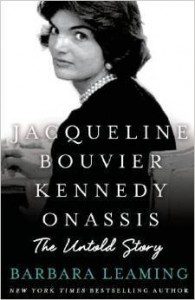 Lisa Kerr from My Cult Life and the Lisa Kerr blog put up a blog posting a few weeks ago about a book excerpt in Vanity Fair magazine's most current issue.
The book that is being featured in that issue is Jacqueline Bouvier Kennedy Onassis: The Untold Story by Barbara Learning. It will be published within the month and can be pre-ordered at Amazon right now.
The bit published in Vanity Fair dealt with Jackie in the aftermath of her husband's tragic assassination in Dallas, Texas and covers her days and nights of misery that neither drinking or prescription drugs could assuage. What makes the book relevant to those of us here at NLQ is the many descriptions of Post Traumatic Stress Disorder. I'm sharing the parts about PTSD below. Take from them what you will and know that if you still have bouts of PTSD that you've not alone. It can happen to anyone.
In every significant respect, Jackie's ordeal conforms to the portrait that has gradually emerged of the effect of overwhelming experiences on the body and mind. Symptoms of PTSD include reliving the traumatic event, avoiding situations that threaten to provoke memories of the event, feeling numb, and feeling keyed up. Among other hallmarks are suicidal thoughts, nightmares and sleep disturbance, obsessive ruminations, and a significant spike in distress around the anniversary of the traumatic event.
This sounds all too familiar:
Jackie, by contrast (speaking of Bobby Kennedy's coming out of mourning) seemed to experience no such improvement. "I am a living wound," she said of herself at the time.
This:
Living with PTSD is a bit like inhabiting a country that has been besieged by terrorists. One has no idea when the next attack will occur or the precise form it will take. It may come in a place one had every reason to expect to be safe.
And lastly:
"People tell me that time will heal," she burst out. "How much time?"
How much time indeed. I think that is one of the biggest questions we ask ourselves coming out of situations that create PTSD within us. There's no clear cut answer. Please be kind to yourself and know you are not alone on your journey out of PTSD. Good counselling can help make a tremendous difference.
If this is your first time visiting NLQ please read our Welcome page and our Comment Policy!
Comments open below
NLQ Recommended Reading …