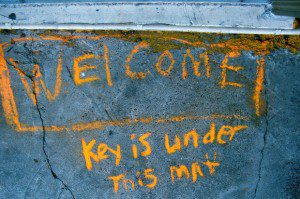 We've had an influx of new readers due to founder Vyckie Garrison's speech at the American Atheist Convention being picked up and republished by publications as diverse as Salon, Raw Story, Huffington Post, Alternet, to mention just a few. Because of the new faces and questions popping up I'm going to attempt to direct folks into the places they can find the answers.
If you're here with lots of questions the best place to start is the NLQ FAQ Page
Two places to start are What is Quiverfull and What is Spiritual Abuse
We get a lot of questions asking if 'No Longer Quivering is an atheist site'. The short answer is no, founder Vyckie Garrison is an atheist and admin Suzanne Titkemeyer is a Christian. The long answer can be found at Is No Longer Quivering an Atheist Website?
Another question that's come up many times this week is 'why Vyckie's article was titled "Escape From Duggarville" at some news outlets and why did it have a photo of Michelle Duggar.' We had nothing to do with that. Every publication makes their own decision on how to title something to market it and what graphics to us.
If you haven't read Vyckie's life story that's been the focus of these articles yet you can find it on NLQ "How Playing Good Christian Wife Almost Killed Me"
Another comment I've seen a bunch this week (and usually not allowed through moderation into the comments because other parts of the comment violated our community standards for giving this place recovery friendly) is 'Are you trying to get Christian women to abandon their families?' The answer is no, but we are trying to support those that have in their journeys towards healing and wholeness.
If you're upset your comment was not published please consult our Comment Policy. We strive to keep this place recovery friendly.
If you've got a story to tell of leaving behind dangerous theology and spiritual abuse we invite you to join NLQ's Spiritual Abuse Survivor Blogs Network and have your journey published here. Just email Suzanne at CaluluNLQ(at)Gmail(dot)com.
Comments open below
NLQ Recommended Reading …