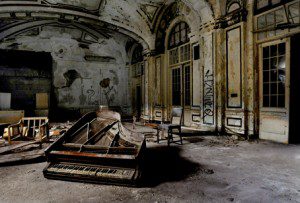 by Ellen cross posted from her blog When Church Hurts
Please welcome Ellen to NLQ and the SASBN!
I came to our most recent church as broken as I thought I could possibly be. I even remember thinking, "What more could they possibly do to me that would hurt me? It's all been done."
How wrong I was.
It was the first Sunday in January – I don't even remember the year – and we had been contemplating where to look for a new church. Not so much for us, but for our children. We so wanted them to grow up with a nurturing Christian church home.
We woke up that morning to several inches of snow on the ground, and living several miles out in the country, we decided we should just stay home that day. We turned on the radio, and the pastor of a church about 30 miles away was just beginning a new series on the Healing Power of the Holy Spirit. My husband stood at the kitchen sink washing dishes and I sat at the table listening  . . . and weeping.  The pastor spoke of grace and acceptance and unconditional love.  He spoke straight to my heart and it was healing balm for my spirit.
The next week there was another snow storm. Another day at home listening to the radio. Weeping.
We learned that this was a six-week series, so we decided that we would attend this church just long enough to hear the rest of the series. The first Sunday we were there, our boys went to Sunday School and afterwards came bounding up to us saying, "Can this be our church?!?!" They had immediately fallen in love with the children's ministry. We responded that we would have to see, but knowing that our children were taken by it had a huge impact on our decision to stay.
We decided to speak with the pastor, whom I will call Elliot, regarding our past church experience and at the beginning of our conversation, we commented that he had probably already heard about us. He adamantly denied this. As we talked, he found out that I was a musician and told me that I would not be able to become involved in the music at this church because there was a long line of people wanting that opportunity. He then suggested that we might consider going elsewhere. He was very open with us in that many churches had a negative attitude toward this church because people were leaving their churches to attend this one.  He appeared to not want to be seen as a "sheep stealer" in our situation, as well.  But this was definitely not going to be the case.  I told him that I wasn't interested in being involved in music or in anything.  I only wanted to be anonymous and he responded by telling us that we were certainly welcome – that it is easy to be anonymous at such a large church.
As we shared our previous church experience, Elliot asked, "Do you think you were spiritually abused?"  I responded by saying, "Oh, you've read that book too?"  And we talked about the impact of spiritual abuse and how it had made me question my standing with God, my salvation, my value, etc.  He appeared to be very familiar with spiritual abuse and the impact it was having on me.  I was so relieved that we were in a place where my woundedness was so well understood.
Toward the end of our meeting, Pastor Elliot commented that an elder had come to him and told him that someone had expressed concern about us. I have never forgotten this because it was in direct conflict with his earlier statement that he had not heard anything about us. But, we were hearing such wonderful things about Jesus, grace, and healing in his sermons that we were willing to overlook this small contradiction.
That fall, I received a call from a man who introduced himself as the president of a local Bible College. He explained that he had an immediate need to hire someone to work with a team of students who would travel the country singing, leading worship, counseling, and representing the school, and that he had been given my name as someone who could do this job well. I was amazed that after having such a horrific experience at our previous church, I would be considered for such a position, but the college president was very encouraging and so I began working, not for a church, but for a school that trains people for ministry.
During my years at the Bible college, I felt that I was leading a double life – here I was in a place where I directly mentored students in faith and life, yet during these same years, I continued to be beaten down by the church.
For weeks during my initial time at our new church, I would attend the worship services, participate in the congregational singing, and listen to the pastors speak balm to my heart. And weep. It took a long time for me to finally get up the courage to sing in the choir but once there, I was so warmly welcomed by a woman named Faith that I cried. Soon, I was being embraced by several people and was eventually invited to sing a solo or two.
Because I had heard so much of what is "good and right" from the pulpit, I was naïve to the fact that this church was not yet so very different from the churches that I had attended in the past. Perhaps it is because my "church upbringing" in college was such an open, warm, welcoming place that I just couldn't believe that most churches were more like the community of my childhood – where last name, social status, income, neighborhood, etc., all factor in to your level of acceptability – the personal and professional respect one receives. I do know that I believed the pastors when they preached about us needing to be transparent, to show our true selves so that God's grace can permeate our lives and we can grow in our relationship with Him and with each other.
Or perhaps, because I wasn't raised in church, I simply didn't know how to be "politically correct" in expressing my concerns.  It never occurred to me that I would not garner the same respect I had experienced in college as a leader and a person of value.
I was unaware that, as the church was looking for a new, full-time, worship leader, Phillip, there was controversy brewing. Having been so warmly embraced in the choir, when Phillip was hired, I was happy to come along side and become more involved. For eight months, I shared the platform with him at all but about five services. During that time, he bestowed more and more responsibility on me, and even brought up the idea that he would try to get the church to hire me part-time to assist him.
Over time, I began to get many questions from other people who were involved in the music/worship ministry.  They often didn't know the details of what was supposed to happen during a service and the specifics of what they were to do.  I tried to be helpful by asking Phillip in advance and encouraging him to help them be more comfortable by being better prepared with appropriate information as well as working with them in the rehearsal preparation.  Instead, Phillip insisted that they didn't need to know what was going to happen – they only needed to follow his lead.
He intimated to me that he really didn't care for the church choir and only sang in it because he had been told that he would have a better chance at being hired if he did so.  His vision for the music ministry of the church was to be on the platform – just him and a piano – leading worship.  No one else was necessary.
Phillip also continued to give me more and more responsibility, oftentimes, having me do several hours of work on music arrangements, only to then inform me at the last-minute that we wouldn't be using that music after all.  Once, I was up until 3 AM on the morning of Christmas Eve arranging "Silent Night" for oboe and violin.  Upon arriving at the church that afternoon for rehearsal, I was informed by Phillip that the piece had been cut from the service.
Often, upon arriving at rehearsals, I would be handed a sheet of paper with song words typed on it, but no indication of what the chord progressions or music looked like.  "It's in the key of 'C,'" Phillip would say. "Figure it out."
At one point, Phillip asked me to be in charge of a Sunday service while he went to visit family in New York.  At our last meeting before he departed on his trip, he said to me, "Ellen, this is a win-win for me.  If you look good, I look good, and if you look bad, I look even better."  A startling statement, at best.
As I saw the people who were involved in the worship ministry struggling, I tried very hard to influence Phillip's view of the people under his care in the worship ministry.  I spoke to Phillip about their comfort level and my belief that it is vital to take care of people's needs, etc.   My words, though seemingly welcomed, in practice had fallen on deaf ears.  People became increasingly upset at Phillip's lack of care for them and their needs as worship ministry participants, yet the more they expressed their concerns, the less Phillip responded.
As time went on, and my responsibilities continued to increase under Phillip's leadership, I was put in charge of a worship team of women.  The point came when he asked if I would take charge of an entire Sunday – two services.  By this time, I knew that he didn't feel that making the worship team members comfortable by giving them as much information as possible and preparing them adequately was necessary.  But, I saw it as vital, so I told him that I would do it if I was kept apprised of any and all changes made to the service prior to that Sunday and if I could be assured that no changes would be made after our final rehearsal on the Wednesday preceding that Sunday.  I explained to Phillip that if I were a full-time employee and changes were made later than Wednesday, I would have the time to make adjustments, but as a volunteer with a part-time job and outside commitments, I didn't have that luxury.  Phillip was more than happy to agree to my terms and I was naive enough to step in and do his job even when he wasn't going to be away or unable to do these duties himself.
The final rehearsal was held on a Wednesday and I asked Phillip in front of everyone if we were looking at the final order of worship.  I assumed that he would have spoken with all of the appropriate people (including Pastor Elliot) about our agreement and that he would only tell me the truth, so when Phillip affirmed that this was the order, I believed him.
When I walked into church on Sunday morning and looked at the bulletin, I saw that the entire order of the service had been changed and knew that I only had 30 minutes to prepare the worship team.  When I expressed my concern to Phillip, he said that he was unaware of the changes until that very morning, as well.  He offered no apologies, simply insisting that he, too, was taken by surprise.  I, of course, was unhappy that he had not made sure that our agreement was kept.  Phillip then apparently went straight to Pastor Elliot.  Elliot then went straight to the keyboard player.  I don't know why Elliot didn't speak with me.  Neither that day nor for several days following did he speak with me.  It was only when I asked for a meeting that Elliot spoke to me about what had happened.
It was the keyboard player, whom I will call Beth, who told Elliot that the music director had put me in charge of the service and hadn't told me about the changes.  According to Beth, Elliot was completely unaware that I had put the service together and taken care of everything with regard to the music.  The real bombshell came when Elliot told Beth that the bulletin had been printed since Tuesday – the day before our final rehearsal.  This revelation was extremely disappointing to me.  While I knew that Phillip had demonstrated a lack of care for those under his leadership in the worship ministry, I was stunned to discover that he would go so far as to set me up to fail in order to prove to himself and to others that he was the premier worship leader.  After all, "Ellen, if you look good I look good and if you look bad I look even better."
I was so disappointed that Phillip would not only lie to me, but put me in a position in which he knew that I would be seen in a bad light.  I was also disappointed that the senior pastor, Elliot, had spoken to other people about it, but never approached me.  I didn't understand why he didn't make any effort to speak to me.
The ladies on the worship team that Sunday all became upset with me because I made the decision to no longer work with Phillip. The women soon sent me hate mail indicating that I was a bad person for stepping aside.  It was apparent from their letter that once again, I was the bad person for not helping make other people look good (as had happened in my first abusive church).
After what happened on that Sunday, the point had come in which I believed that I needed to take that second step of Matthew 18 – to take someone else with me to speak to the music director.  This was a very large church, and it was in a community where I did not live. Because I had not been there long, and had been reticent to get to know many people, I wasn't familiar with the hierarchy of the church leadership. So, because the Pastor Elliot had not made any attempt to speak to me regarding the incident on that Sunday that I was leading worship, I was unsure who to speak with about taking someone with me to talk to Phillip.  I did know that the keyboard player, Beth, who had been on worship team that fateful Sunday had been on the search committee before they hired the music director, so I decided to speak with her for suggestions about whom I should talk to regarding my concerns.  Beth told me she was unsure but asked me to share my concerns with her so that she could better guide me.  This seemed a reasonable request since she had been in leadership as part of the search committee that had interviewed Phillip.
As I said earlier, I didn't know that controversy had been brewing since before they had hired Phillip, so I told Beth of my concerns and that I had already addressed those issues one-on-one with Phillip, to no avail.  She intimated to me that the search committee had been adamant that he not be hired due to similar concerns that had revealed themselves in his previous job and through the interview process, but, since there were leaders in the church who thought that he had "star quality," they had disbanded the search committee, formed a "personnel committee" and gone forward with hiring him.  So, she could not give me any advice regarding whom to approach since the search committee had even been ignored in their concerns.  I didn't know where else to turn at that point, but thought perhaps I should next approach Pastor Elliot.
A few days later, Beth approached me at the church saying, "Oh, Ellen, I am so sorry!"  She went on to tell me that she had shared my concerns with her mother who attends a church across town, not realizing that her mother would send a letter to Pastor Elliot telling him about our conversation.  Her mother's letter apparently told Elliot that Phillip was going to end up hurting me if they didn't do something about him.
"It's okay," I replied to Beth.  "Maybe now I will have an opportunity to talk to someone about my concerns."
"You don't understand!" she said.  "You will never be accepted in this church now."
"Surely this couldn't be true," I thought.  "I have heard Elliot preach about grace and forgiveness and being transparent and how we are to follow God's word in what we do and how we treat one another," I told Beth.
"No," she said. "You don't understand.  This is how it is here when someone doesn't support the 'beautiful people' – those who are part of Elliot's inner circle."  Apparently, Phillip was one of those 'beautiful people.'
Still, I didn't believe her.  I had heard him preach.  I knew she had to be wrong.
I did have an opportunity, because of that letter, to briefly express to Pastor Elliot that I had some concerns and that I would no longer be serving under Phillip's leadership.  I also told him that I had taken that first step of Matthew 18 in expressing my concerns to Phillip and that I would like to move on to the second step of taking someone with me to speak with him.   Elliot put me in touch with the president of the governing body of the church at that time.  In no way did he indicate that he was upset with me or that I was being blacklisted by the situation with the letter he had received.  He simply pointed me toward the president, a woman named Denise.  I was relieved.  It seemed I was well on my way to taking that next step of Matthew 18 and perhaps someone would come alongside Phillip and mentor him in learning to love and lead well those in his charge in the music ministry of the church.
Denise seemed sympathetic, and decided to set up a meeting with the music director and me.  And then, after further thought, she decided to the personnel committee.  I had some misgivings about meeting with so many (there were 6 people there representing the committee, plus Denise, Phillip, and me) since Matthew 18 indicates that if we have an issue with someone and have spoken to them one-on-one, we should then take only one or two other people with us.  But since the lay-leader of the church seemed to think this was a better path to follow rather than the biblical mandate, I trusted her.  She led me to believe that she agreed with me regarding my concerns and that by speaking with Phillip with the personnel committee present, a plan could be put in place to assist him with valuing people through his position.
I had come to this church from my previous church where I had experienced extreme judgment, condemnation, confusion, and a concerted effort by the pastor and leadership to convince me that I was less than – that God was unhappy with me and could not accept me.  They had even called into question whether or not I was a Christian – very nearly convincing me that I didn't measure up to God's requirements.  I knew in my head that this was untrue, but these leaders whom I believed God had placed in authority over me, had placed enough doubt in my heart about my position with God that I was in a very fragile state as I went into the meeting with the personnel committee.   I don't think I was even aware of just how fragile I was.
In fact, I now see that the way the meeting was handled put me in a state of post traumatic stress because it so mirrored the meetings that I had attended at my previous church.  I was going in to a meeting with people who – besides Phillip and my one conversation with Denise, did not know me in the slightest.  They had seen me around the church, in the choir, and on the platform with Phillip participating in leading worship, but no one had ever had a conversation with me beyond, "Hello," and "Hi, how are you today?"  So there was no one in this meeting who could vouch for my character or who had any interest in protecting my dignity.
When we met, it was apparent that the personnel committee had spoken with Phillip prior to bringing me in and that he had done all that he could to place me in a bad light.  From the very beginning, I was attacked by several of the people in the room.  One woman was especially harsh, belittling me for being difficult to work with and that I was the one who was obviously the problem.  She very adamantly stated that while I was an "A" and that Phillip was a "B," they had decided to hire a "B" and so they would support Phillip no matter what.  I was stunned that they would say such a thing when he was sitting right there hearing their comments.  I would have felt very demeaned if people had blatantly told me I was a "B" and someone else would obviously be much better at my job than I would ever be.
I was also stunned that they had taken the position that no matter what Phillip did, it was okay with them.  They had no problem with the way he treated the people under his leadership as though their questions, comfort level, and lack of preparedness were unimportant.  They also told me that I was no longer welcome to participate in worship ministry with him.  This was not a problem for me – I had already told Elliot that I had made that decision when Phillip had so obviously set me up to fail.
The way that meeting was handled – the harshness, not following Matthew 18, etc. had left me deeply wounded.  I felt it had been handled very poorly and that I had been misled on the purpose of the meeting.  I expressed my position to Denise and, while she seemed to understand why I felt that way, it simply was what it was and that was the end of it.  But it wasn't the end of it for me.  I was incredibly hurt – and I believed that Elliot would understand since he knew about my previous experience of being spiritually abused at our former church.  I emailed Elliot and let him know how horrible the experience of that meeting had been.  I didn't get a response, so I emailed several times – sometimes in frustration.  I couldn't wrap my head around what was happening at the time, but I did realize that there were hidden rules in the church and that I was being black-balled for not following them.
Over the next several months, a number of people who had been involved in the worship ministry made the decision to no longer participate.  Several of them spoke to me, but they apparently were much less open about expressing their true concerns to the leadership.  Apparently, they knew the politically correct way to handle the situation – say nothing, or make up an excuse and walk away.
Unfortunately, I believed my Bible and tried to do what it said – what was right.  A few times I emailed Elliot and told him of the latest fatality in the worship ministry and the concerns that had been shared with me when people made the decision to quit.  I made every effort to frame each of my emails as a desire to have the leadership mentor and help Phillip grow in his role as a worship leader.  Each person who stepped out of the worship ministry because of Phillip's lack of compassionate leadership was further proof that my original concerns were valid and that Phillip needed to have help in learning to minister to those under his leadership.  Of course, this was breaking that sacred unwritten rule about not pointing out the problem or you will be labeled the problem but I believed I should follow what God had to say about sharing concerns.  I know now, follow God and people condemn you to hell.
Ellen is a member of the SASBN and she blogs at When Church Hurts
More about Ellen:
Several years ago I was the victim of a most heinous form of abuse unlike anything I had ever thought possible. Not having been raised in a Christian home, my first experience with Christians and pastors had been one of joy, grace, fellowship, love, and delight. When faced with the horrors of having the very essence of who I was as a woman of faith stripped from me in what I can only describe as spiritual rape, I couldn't comprehend what was happening. This was church, after all, and I believed that everything works together for good for those who love God. Somehow, it didn't make sense that everything was not working together for good. When I was finally able to resign myself to the fact that God was not going to "work this out," I made my escape and sought a safe haven. 
Little did I realize that I was going from the proverbial frying pan into the fire. Oh, how I tried to beat back the flames! Oh, how I prayed and pleaded for mercy, for grace, for a chance. "But hate is strong and mocks the song of peace on earth, good will toward" Ellen. 
He who began a good work . . . had forsaken me . . . and the silence was more than deafening . . . it was defeating. So intertwined were we, that as God went missing, so did Ellen. But I am nothing, if not tenacious.
Comments open below
NLQ Recommended Reading …