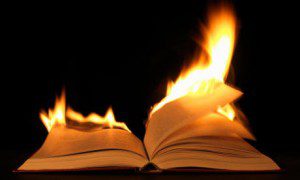 by Suzanne Titkemeyer
Greetings! I am currently on the road, driving down in the deep south to see relatives and being exposed to a capacious amount of ridiculously bad ideas Fundamentalist Christianity has to offer. This morning I was telling Vyckie Garrison of driving through rural Mississippi, hitting search on my car radio and coming up with ten different Christian radio stations in a row. I was stuck listening to them for a few hours and was struck by some of the ideas put forward and flouted as 'The Truth' that are just dangerous to a person.
One of the things that Vyckie did that I haven't worked up the courage to do is that she burned a Bible. I am not ready to do that, but I am ready to pull out those scriptures that harm us and burn them, write down some of the bad ideas I heard this week and put those on the barbeque pit to light up.
One of the worst ones that I heard yesterday that I would like to fire up is "God allows things like bankruptcies, divorce and other disasters to happen to get your attention to turn you to worshiping Him"
What type of 'God' has to injure you to make you pay attention to Him and would He even be worth following?
I'd add that one and most of Titus to my fire pit and plan on doing this symbolically when I get home as a healing ritual. Why scriptures or Christian thoughts or mythology would you burn if you had the chance, that you think are just toxic?
Suzanne is an empty nester lives near Washington DC with her husband, cats and various rescue birds. She works at a residential treatment center for children and is also the administrator of NLQ. Was raised Catholic in South Louisiana before falling in with a bunch of fallen Catholics whom had formed their own part Fundamentalist, part Evangelical church. After fifteen uncomfortable years drinking that Koolaid she left nearly 7 years ago. Her blogs are True Love Doesn't Rape and Seeking The Light
If this is your first time visiting NLQ please read our Welcome page and our Comment Policy!
Comments open below
NLQ Recommended Reading …