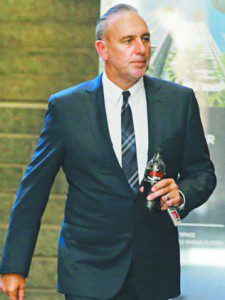 Looks like Brian Houston, Hillsong Senior Pastor, is in trouble for how the church handled allegations of sexual abuse against children by his father Frank Houston, founder of Hillsong and others connected to the church. Looks like their parent organization, the Assemblies of God, may also be culpable as well.
Sounds more than just a little incestous in the leadership of the AOG and Hillsong –
His son Brian Houston was national president of the Assemblies of God (AoG) in Australia from 1997 to 2009. More than 1000 Pentecostal churches are affiliated to the AoG which is now commonly known as Australian Christian Churches (ACC).

Brian Houston was president in 2000 when his father admitted he sexually abused a boy in New Zealand 30 years earlier. Frank Houston was fired by his son from all church roles.

Hillsong in Sydney was created when separate churches run by father and son merged under the leadership of Brian Houston.
From The Age – Hillsong pastor to face abuse inquiry
Statement from Brian Houson:
"However as painful as this is for me, I can only imagine how much more pain these events caused to the victims, and my prayer is that they find peace and wholeness.

"Hillsong Church has zero tolerance for sexual abuse and has comprehensive child protection policies that are continually reviewed. We also welcome any recommendation of the commission that would assist us to improve on these policies even further."
From The Guardian – Hillsong pastor Brian Houston found father's sex confession 'agonising'
There are no words!
"You know it's your fault all of this happened. You tempted my father," the victim, now 52, has claimed Brian Houston said to him.

The man said he replied: "Why, did he molest you also?" and Brian Houston became very angry and slammed down the phone.

The man, whose identity has been suppressed, said this conversation happened in early 2000 after his mother had told the church about how Frank Houston, a pioneer of the evangelical movement, had sexually abused her son for some years from the age of 7 or 8 until he reached puberty.
From News.Co.AU – Hillsong church leader slams paedophile father William Francis (Frank) Houston as 'Repulsive'at child sex abuse royal commission
Considering the wide-reaching influence of Hillsong United on the worship scene in Evangelical Christianity for these many years we will be watching at NLQ to see how all these allegations play out. It seems to be a given in Patriarchy that leadership always covers for high ranking sexual predators and dismisses the claims of the abused or says that they brought it on themselves. Wonder if laws in Australia will allow the victims to seek financial recompense against the enormously rich church?
If this is your first time visiting NLQ please read our Welcome page and our Comment Policy!
Comments open below
NLQ Recommended Reading …